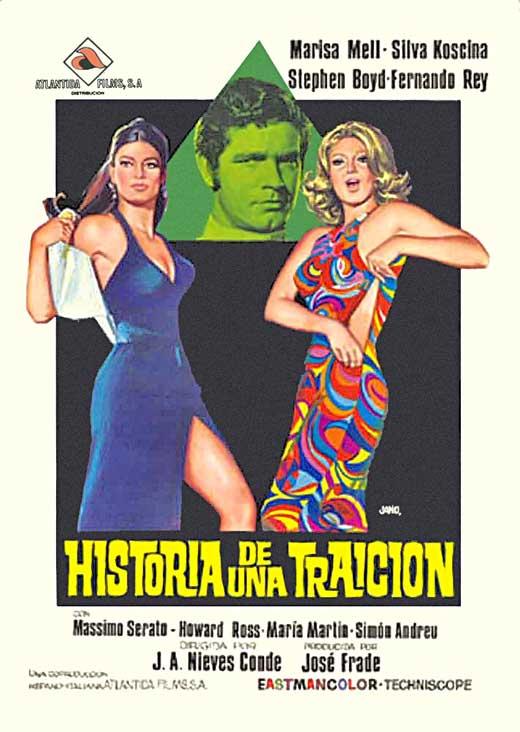 Year: 1971
Duration: 01:33:06
Directed by: José Antonio Nieves Conde
Actors: Marisa Mell, Stephen Boyd, Fernando Rey
Language: Spanish
Country: Spain | Italy
Also known as: Historia de una traici?n, Carla kai Nora – Anomaloi desmoi, Nel buio del terrore, Carla e Lola

Description: Edmondo Amati co-produce a film Italian / Spanish, strongly inspired by current-sexy thriller lenziani (style Paranoia and Orgasm) that, in many contexts, the direction-of-inspired little Nives Conde leads. Not everything works as it should, dealing with the usual intrigue character "hereditary", but a cast of international (Sylva Koscina and Massimo Serato) and the beauty of Marisa Mell (not as clean as ever) title at least make it interesting.Music style'70s by the prolific and talented Carlo Savina.
Review: Karl ( Marisa Mell ) – elite call girl . Once at the hotel she meets her old friend Lola ( Silva Koshin ) , and as the last place to live , they decide to huddle together under one roof. Karl did not understand what nourished snake around his neck – gently but firmly Lola luring her to his wealthy client ( Fernando Rey ) .
I watched this movie a long time – I do not remember that there is nothing. The plot is extremely (!) Confuses ( not the fact that I understood it even when I watched ) .
Picture – aesthetic . Girls – beautiful. Fernando Rey – aristocratic. Music – chic.
Other names: " Charles and Lola ", " In the darkness of fear ", "Big scam ."
There are several versions of the film . Earlier, I came across another copy of the eye , where he had a place here is a final dialogue :
– " But why , Arturo ? Why ? ? "
– " Because you disgust me . Both of you ! "
These two phrases I realized even in Italian with hearing. What are they and what – if you 'll overpower the movie until the end.
Screenshots:
Download: