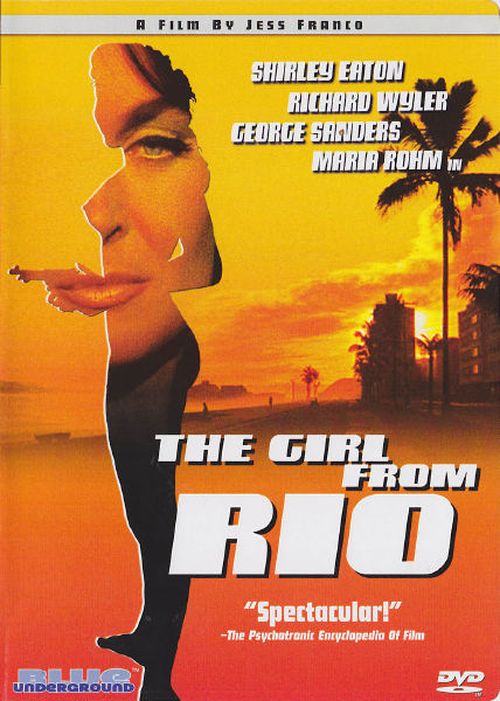 Year: 1969
Duration: 01:33:58
Directed by: Jesús Franco
Actors: Shirley Eaton, Richard Wyler, George Sanders
Language: English
Country: USA, Germany, Spain
Also known as: Die sieben Männer der Sumuru, River 70, A Garota do Rio, A Mulher do Rio, Sumuru o Beijo da Morte, La ciudad sin hombres, Sumuru, regina di femmina, 7 fredlösa män, Future Woman, Mothers of America, The Seven Secrets of Sumuru
Description: Jeff Sutton steals a tidy sum and running in Rio de Janeiro. Here, he «runs,» the local mafia, known about the contents of a diplomat Jeff. And somewhere outside the city is a strange organization warrior women «Femina» who want to rule the world. And that requires money. On the orders of their leader they kidnap wealthy men, they are subjected to all sorts of torture, forced to pay the money, and then killed. And this organization is also understand about the contents of the diplomat Jeff and now he has to save themselves not only from the mafia, but also from militant beauties…
Review: I'm a big fan of films like Diabolik, Superargo, Eurospy, etc… Anything with 60s chicks in go-go boots, running around with weapons, with cool pop music orchestration is fine by me. I loved that i coud grab hard to find films (with Eng subs) like Satanik, Kriminal, Fantomas, etc… So i'll endeavour to contribute what I have…
Lets start off with one from Jess Franco's catalogue of a thousand films… lol
Based on characters adapted from a BBC radio serial & turned into novels by author Sax (Fu Manchu) Rohmer. Filmed in Spain & Brazil.
Lets just hope that the other Shaw Bros studio lensed film from 67, The Million Eyes of Sumuru, geta a DVD release one day.
Now I'm not overly praising this film, because, well it seriously needed to up the action/sleeze quota, the lead actor is a personality free zone & it kinda meanders all over the shop, but overall its full of chicks in skimpy outfits & funky looking Brazilian architecture. It coud've been incredible, because i just misses the mark, but its still enjoyable if you are a b-grade enthusiast like me who doesn't mind the lack of the 'what should have beens'. And it's a great looking 35mm print.
Screenshots:
Download: