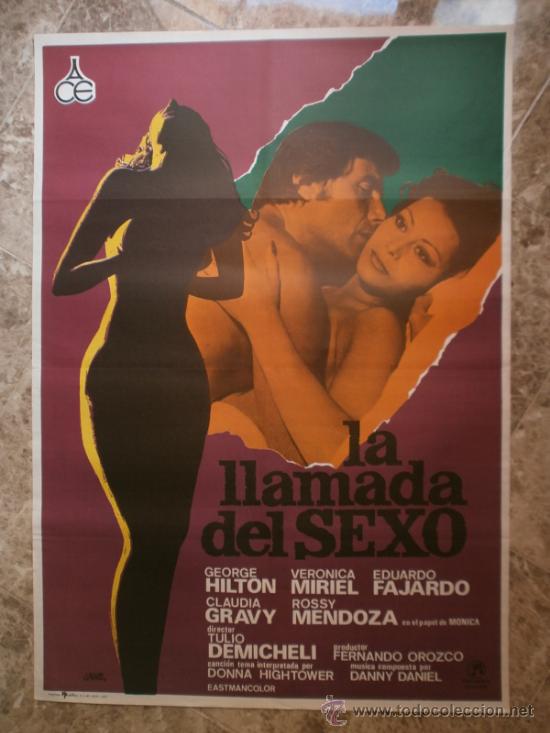 Year: 1977
Duration: 01:21:31
Directed by: Tulio Demicheli
Actors: Andrés García, Rossy Mendoza, George Hilton
Language: Spanish | English subtitles
Country: Mexico | Colombia | Spain | Dominican Republic
Also known as: La llamada del sexo (original title) | Dulcemente morirás por amor (Mexico)
Description: A man finds a woman that reminds him of his long lost love: his step-sister with whom he initiated his sex life. But he is married and his wife wants proof of the cheating to get a divorce. The problem is that there is a reading of death in the man's life, coming from his friend that has supernatural abilities. How will the complicated love triangle resolve itself?
 For all you desperate souls who like Mexican soap operas, this is the right film for you.
Actually this a Mexican Colombian, Dominican and Spanish it's a an erotic kind of thriller mixed with some giallo elements, and a clever ending, of course with some soap opera feeling, but not an entirely bad flick, the ending is quite good  putting the viewer in doubt about what's really happening if its real or just a dream.
There are a lot of calls but not much sex I'm afraid still a few tits appear now and then, and the babes are more than OK in the tits department, George Hilton could have a made a career in the South American soap operas world without a problem. With Eduardo Fajardo in it and Tulio as the director, you can only think they could have made a Western Spaghetti in they're free time.
"The film's Sex Call protagonist named Carlos Litvinov constantly pursue : first wife , hires a detective to spy on her husband's adultery , then the specter of the most seemingly happily murdered wife's passing with nightmarish flashes of memories of early childhood , which are still hidden skeletons . Being on the edge, and sometimes beyond schizophrenia , Senor Litvinov is rampant They reflect , then rushes to find the elusive love of it in the form of the mysterious beauty of Monica , he meets it in Colombia , the Dominican Republic , then to Miami, but that seemed to be laughing at him, disappears after each new appointment, and then leave behind the image of Gloria (the same ex- wife) . As some artifact wedged in place for traditional thrillers ( including Hitchcock ) " damned old house " that there was something very wrong in my childhood hero, and which seems to hide the body of his wife."
Screenshots:
Download: