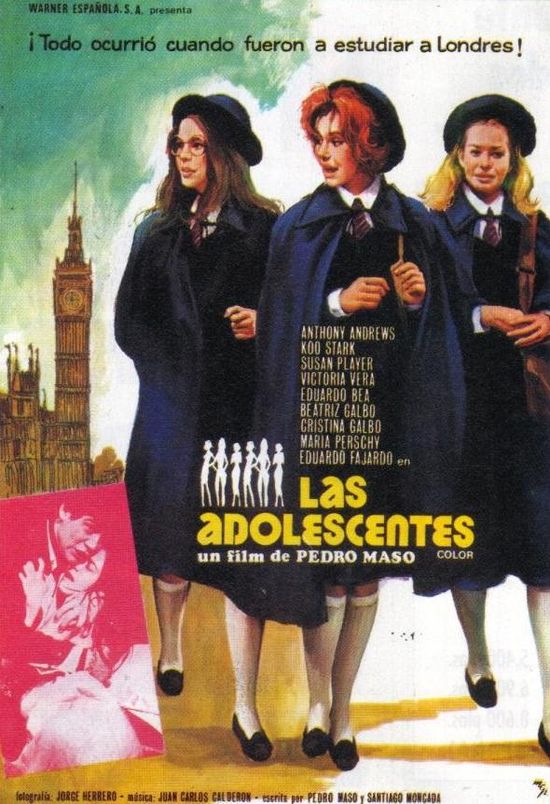 Year: 1975
Duration: 01:30:20
Directed by: Pedro Maso'

Actors: Anthony Andrews , Koo Stark , Susan Player

Language: Spanish
Country: Spain
Also known as: The Adolescents ,Oi Protares , Pubertà , Las Adolescentes

Description: A sometimes hilarious soft porn film made in the 1970's, Las Adolescentes was filmed in England, Denmark and Spain with english actors Koo Stark and Anthony Andrews, but made by a Spanish company.
Ana is a shy teenager who lives with his parents in a coastal town. One day, his parents decide to send her to England to broaden their education and learn English. Although she does not fit quite right this idea has no other choice but to obey and go to an English boarding school where he will live with teenagers of different nationalities. Although a little dazed and displaced, access Ana spend a weekend in London with some companions, where he met three strangers who have a close friendship with her friends.
Review of Las adolescentes movie: Some of you may prefer a bit more exposition than that, but this piece of sub-softcore sleaze from Spain is pretty self explanatory. Our innocent young heroine is sent to a respectable boarding school which should be the making of her, but ends up coming to grief in the backstreets of post-swinging London instead. It's a little strange that this film has remained obscure, starring as it does the delightful Koo who once notoriously flirted with royalty, and Anthony Andrews who made a name for himself with Brideshead Revisited.
Like a lot of films from countries with a more prudish outlook this one seems uncomfortable with the material. It has a guilty conscience that demands the characters be punished for their sins, which means it ends up not just tamer than it ought to be, but sometimes more offensive as well.
Bespectacled Spanish teenager Ana (Koo Stark) has shut herself in her room to browse through a school prospectus. But oddly enough it's for an exclusive boarding school in England. What's going on? Ana goes to have a word with her father.
– Daddy, I need to talk to you. About school.
– If it's about your homework ask your mother.
– No Daddy, it's like this. I don't want to go to that rotten day school anymore. The place is a zoo. I just looked out of the window and saw the head girl snogging up against a tree! Really, it's worse than living on a council estate. No, I want you to pay for me to go to a boarding school in England instead.
– A boarding school my sweetheart? But don't you know what they're like?! Spending all day over the headmistress's knee having your bottom spanked, and then all night having your best chum on the dorm climbing into bed with you for hugs and kisses? And the shower scenes! Standing naked with a dozen other girls and the cameras still rolling, tsk tsk it's an absolute disgrace …
– Honestly Daddy! Anyone would think we were talking about a theme park for lesbian exhibitionists rather than a prestigious centre of learning. But if by some quirk of fate I do get myself on the cover of a Danish girly magazine I'd better not find a copy stuffed under your mattress!
Faced with such a crushing riposte the doting father has no choice but to reach for his chequebook and start making the arrangements…
In less time than it takes to relate, Ana has been welcomed at the Regent School for Girls in the countryside near London by attractive but stern Headmistress Miss Lawson. Now she is being introduced to her new friends on the dorm. Argento fans will recognise this scene as something it looks like he pinched for Phenomena (1985).
I love a smart school uniform. Especially when it's worn by a nineteen-year-old a size too big for it. Ana and her two best chums are getting a ticking off in Miss Lawson's study. Susan Player is passionate-lipped Carla in the middle, the sheepish-looking Rosalind is played by Victoria Vera. You may remember Victoria as a zombified Victorian orphan call-girl in the contemporary School of Death (1975).
Screenshots
Download