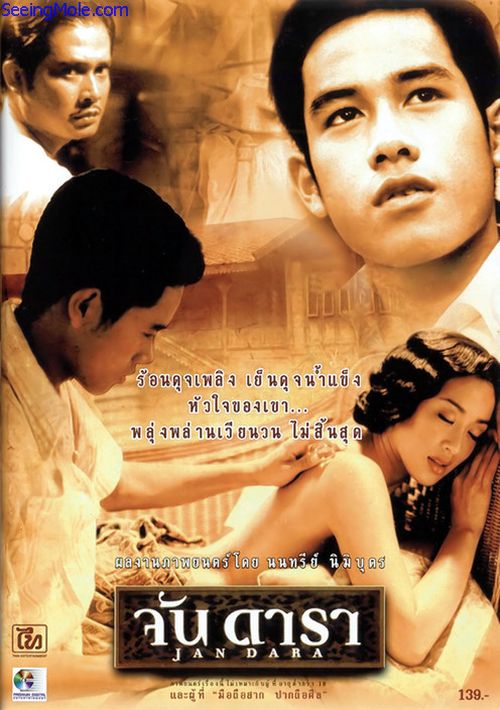 Year: 2001
Duration: 01:52:59
Directed by: Nonzee Nimibutr
Actors: Suwinit Panjamawat, Santisuk Promsiri, Christy Chung
Language: Thai (English Subs)
Country: Thailand
Also known as: Jan Dara: I apoplanisi
Description: Jan Dara, who's mother dies while giving birth to him, is constantly blamed by his dictator father being the reason she was killed. He grows up in a non-stop sexual surrounding wanting to continuesly know about his identity and ancestry. Turning from a child to a man, he takes a path to respecting woman the way his mother would have liked to be treated. Many twists and turns fall into Jan Dara's thoughts and actions as he crosses time-lines in his forever questioning life.
Review: The main hero Jan Dara, who hates the father, forced to leave home at the age of 13. Through the years, he returns to avenge his father. In his life invade 3 women – young, sensual and free stepmother, manipulating father, sister, that consist of woman in an intimate relationship and whom he forced to marry; and innocent former classmate, which he loves.
Instead of revenge Jan Dara, drawn into a dark whirlpool of passions father's house, repeat the fate of his father who ruined his life and the lives of their loved ones…
The film has generated a lot of different and mixed feelings as disgust and desire to blink , and to delight and applause, but in the end produced a devastating effect. Heavy tape.
Very nice shot , shadows , light, furniture, clothes , flowers, sex scenes , beautiful actors , fine camera work . But at that time , and that was in 2001, it seemed to me that the picture is too riddled with eroticism and violence .
But the main thing here facial expressions , gestures, even their silence makes the strain all the muscles of the face. A lot of drama , but it is worth seeing , if only for comparison with the American cinema.
If you want to see something better with subtitles in this movie the word is not important, the main thing is action.
Screenshots:
Download: