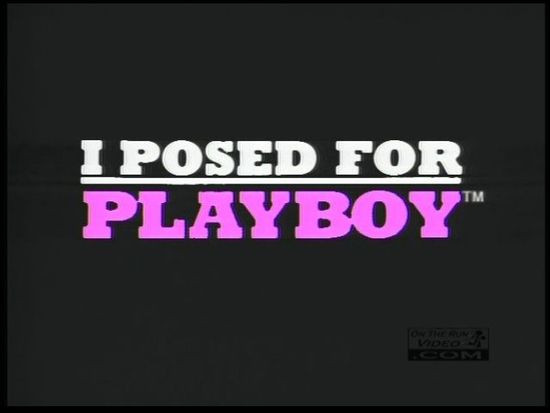 Year: 1991
Duration: 01:35:56
Directed by: Steve Stafford

Actors: Lynda Carter, Michele Greene, Amanda Peterson

Language: English
Country: USA | Canada

Also known as:  I Posed for Playboy, Porque eu posei para a Playboy, Ich war ein Playmate, Yo posé para Playboy, J'ai posé pour playboy, Modella per un giorno, Posing: Inspired by Three Real Stories
Description: 
We're doing an upgrade today, of something that certainly deserves it. 1991's,
"I Posed for Playboy". I believe you'll find this Laserdisc transfer, not only of better
quality than the previous post of this title, but with absolutely no logos on it either,
as the other had. There's many reasons to jump head first into this title, most notably,
and with absolute certainty……the gorgeous Lynda Carter. Nope…..she doesn't get
naked in this one, but who cares? lol She's by gawd pretending to get naked and that's
plenty good enough for me! lol Throw in Amanda Peterson, the little hottie we always
wanted to see get naked, but never did because she said fuck it and left Hollywood, along
with L.A. Law's Michelle Greene, who's not especially sexy at first glance, but when she
strips down and wallers around on a bed with lingerie on, grabs ahold of your attention and
doesn't let go! So we have a flick, named Inspired by Three Real Stories", and all the stars are sexy
as hell, but end up not showing us the goods. How can that be? I movie with Playboy in the
title and not even one titty? Hey now! I never said that mister! You don't just plop the name
Playboy in the title of something, and not have those bunny boys have a little say ya know! lol
Hell no! And that's fine as wine with me, because they sent over a gorgeous little British playmate,
who told everyone over in the states that her name was Brittany York, but back home she
went by Alison Armitage. Doesn't matter to me what the hell she calls herself, because she's
the one that turned this original TV movie of the week, into something I'd run out and buy
on a Laserdisc, because hey……I like to see good lookin' women's titties. Also….a heads up
for fans of cutie Josie Bisset who's in this as well. From 1990, as transferred from Laserdisc……
"I Posed for Playboy".
Screenshots:
Download: