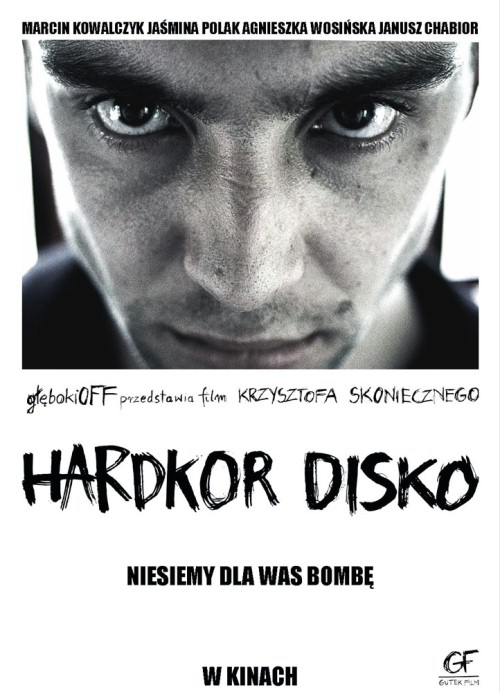 Year: 2014
Duration: 01:26:28
Directed by: Krzysztof Skonieczny
Actors: Marcin Kowalczyk, Jasmina Polak, Agnieszka Wosinska 
Language: Polish
Country: Poland
Also known as: Not Available

Description: The debut film by Krzysztof Skoneczny looks cheerful, the atmosphere here is at least cool, and even cold grave. "How would you prefer to die — to burn or to freeze?", — he asks Olga. "Burn", says Marcin. He himself, like a big walking ice melts only occasionally. All his actions are coldly calculating. Actor Marcin Kowalczyk played a character, from first glance which or on which is creepy.
The camera shows the road on which the vehicle travels, under the "Sarabande" by Handel (not the rare visitor in film — music composer sounds in films like Kubrick and Trier). The head of the family turns into the forest, and it stifles Marcin (scene says hi Polish classics the Krzysztof Kieslowski and his "a Short film about killing"). Then, when he awakens, Marcin throws the architect in the face, that'll kill him first, and then a mother. It is unclear from the narrative whether the main character of their son, or is this some kind of obsession, but perhaps this is not so important.
Debut Skoneczny professionally filmed, and the script is tailored well, don't slack almost anywhere, but only the white threads are a no-no, and will appear somewhere. The plot itself is a young unknown man breaks into an affluent family and explodes from within — reminiscent of the films of Michael Haneke. Take his "Funny games". Or "Hidden", in which the same respectable Europeans overtakes the past. Soundtrack of the picture consists of compositions of contemporary Polish musicians and can remind the viewer of the music from Drive by Danish Director Nicholas Winding Refn, and Marcin with his Oedipus complex — the main character of another picture of the Dane "Only God forgives".
If desired, you can find other voluntary or involuntary borrowing from other pictures, but figure Haneke can be limited. To say that Skoneczny copies of the eminent Austrian it would be fundamentally wrong. The Polish Director story full of violence, turns to the parable of the prodigal son. Or, if interpreted wider, the change of generations.
It seems as if the Director Krzysztof Skoneczny throws a challenge to the older generation. The names of Polish classics — Krzysztof Kieslowski, Andrzej Wajda, Krzysztof Zanussi — long and firmly inscribed in the history of European cinema. But classics is clearly not what the soul Skoneczny. Slow and measured style he prefers hard and dynamic entertainment. In "Hardcore disco" there's no national colors, its action could take place in any European capital. In the context of the song Anna German "in Warsaw rose in the finale sounds like a certain mockery.
The conflict between fathers and children not allowed in favor of the former. Here are the young punks that will wipe you off the face of the Earth. Dropping from the ship of modernity "Starikov", Marcin silently away, leaving as aftertaste portrait of a young, unknown tribe. It is time hardcore.
Screenshots
Download