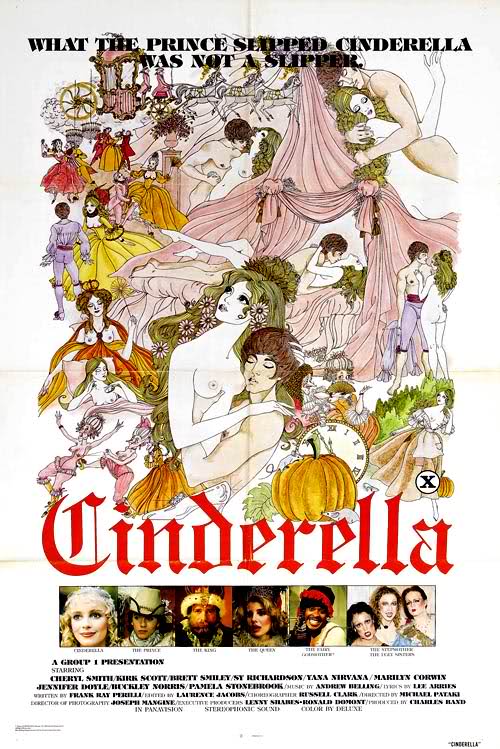 Year: 1977
Duration: 01:32:57
Directed by: Michael Pataki
Actors: Cheryl Smith, Yana Nirvana, Marilyn Corwin
Language: English
Country: USA
Also known as: Askungens underbara sexualliv | Cenicienta | Nel regno del sesso | Cinderella: The Movie | Cinderellas unmoralische Abenteuer | Die tolle Geschichte der C. | The Other Cinderella | Tuhkimon eroottiset seikkailut
Description: Here it is The 1977 Adult-Musical-Comedy-Fairy-Tale of Cinderella produced by Albert Band & Charles Band and Co-Directed by Michael Pataki & Richard Band(I would assume Richard did the musical numbers) starring Cheryl "Rainbeaux" Smith (Revenge of the Cheerleaders) in the title role of main character.
If you want to find out more about the film I suggest looking at the imdb link. Suffice to say as far as I know this is the only wide-screen English language version of this film available anywhere in the world.
I know this because I made this edit myself, I took the (incomplete) Italian 2.35:1 dvd of the film, matched it up to the audio from a 4:3 VHSRip including cutting back a couple of times (and one whole scene) to the 4:3 VHSRip when the Italian DVD was missing footage. This is a specially created rip by me for wipfilms.
I just wish this film along with Fairy Tales were available on blu-ray, but in the mean-time here's the next best thing.
There is plenty of nudity in this but though it is just on the edge it is still soft-core, check the screens and don't forget to comment:

Screenshots:
Download: