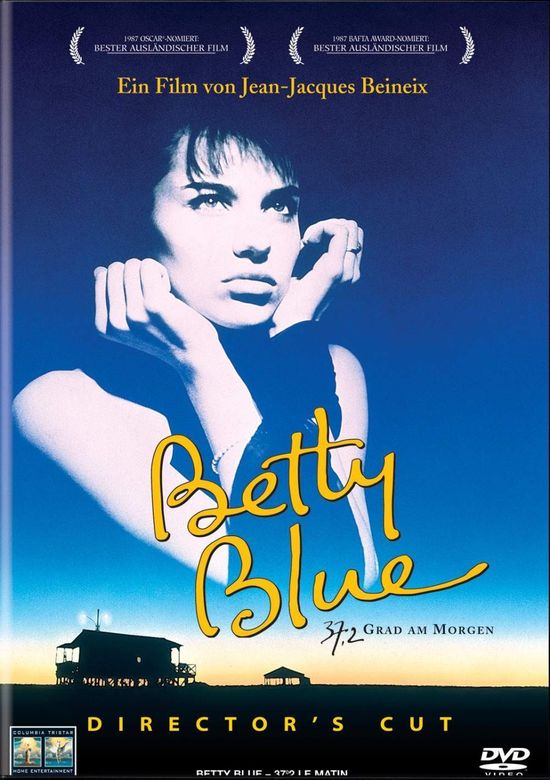 Year: 1986
Duration: 02:57:52
Directed by: Jean-Jacques Beineix
Actors: Jean-Hugues Anglade, Béatrice Dalle, Gérard Darmon
Language: French (English sub)
Country: France
Also known as: Betty blue, 37.2 Degrees in the Morning, 37.2 le matin,
Description: Betty – the name of the girl who once met a budding writer Zorg. For a whole week after the first meeting Zorg and Betty did not get out of bed. They made love to the point of exhaustion – day after day, month after month. However, the tragic fate prepared for them a payoff for such a short-lived happiness …
Review: In contrast to the film "Moon in the Gutter," French director Jean-Jacques Benex succeeded in his next film to overcome the contradiction between aesthetics and playing the realities of life, visual magnetism of cinematic style and the need to coherently and intelligently still tell a story.
Zorg (Jean-Hugues Anglade – Borderline) and Betty form a rather strange love couple, if you look at them from the side. He – a calm, thoughtful, patient, not airy-fairy, who lives as happened to live. Zorg has been any ancillary work, although by nature – writer, creator, who just need inspiration and support. The nervous, flighty, unbalanced woman not of this world, and as will be later with schizophrenia Betty not only brings passion and obsession frenzy of feelings in his relationship with her lover. It is capable of finding old diaries to evaluate talent Sorge, again make him write and then seek the publication of the novel, which, unfortunately, Betty will not have time to see in print. Intuitive sense of impending doom of their own destiny, short tempered instant life makes it look all the time in the excited state, since the normal temperature, restrained emotion and conscious actions for Betty does not exist. She – the very element, indomitable nature, wild and spontaneous nature, the true source of the flame of love and inspiration.
Béatrice Dalle (Witches' Sabbath and Inside film), open Benex young actress, directly and completely devoid of stiffness and stiffness in the manifestation of the unpredictable gusts of her character in the true sense of the erotic, filled with the energy of sexual desire. Director, without further ado, immediately, from the first frame, sets a higher degree of passion, providing a rare, natural and sensual scene of sexual intercourse without offending even puritanical, ultimately, the tastes of Americans who have advanced the picture on the "Oscar" (a before she won the top prize at the film festival in Montreal).
Interestingly, if you look «37,2 º morning" does not start or see a cut version, as happened with us once late at night on Channel), then with the "low temperature" tape will be seen clearly different. One may marvel at the magic of this film only style, and again they feel that in the next creation of Jean-Jacques Benex still little sense. But it's hard to disagree – the director as possible limited his imagination and took really sincere about the product gentle and violent love, which in itself is valuable.
A beautiful film. Almost "documentary" film Betty Blue about love, as if filmed with a hidden camera. While watching a movie, the story, the actors' performances, the work of the operator do not think this is important. The real art.
Then, after watching, thinking: the film to me as a neurologist, it was interesting not only artistic, but also the medical point of view. Beti-hysterical, and how natural it plays Béatrice Dalle. Betty loves Zorg hysterical devotion. For Zorg no other women for every man such devotion and loyalty of woman blows the mind and creates a sense of love as a fairy tale. And so their love is so strong.
Final of 37.2 Degrees in the Morning is surprising. I still hoped for something more.
Screenshots:
Download:
37.2 Degrees in the Morning.CD1
37.2 Degrees in the Morning.CD1 (English Subs)
37.2 Degrees in the Morning.CD2