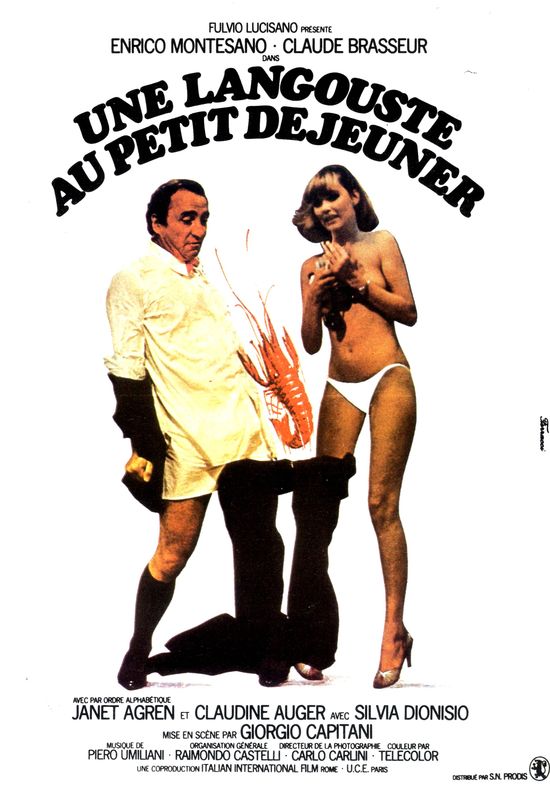 Year: 1979
Duration: 01:28:45
Directed by: Giorgio Capitani
Actors: Enrico Montesano, Claude Brasseur, Janet Agren
Language: Italian | Italian Subtitles
Country: Italy | France
Also known as: Une langouste au petit déjeuner, Languszta reggelire, Lagosta ao Pequeno Almoço, Lobster for Breakfast, Gib Vollgas – komm rüber, Hummer zum Frühstück
Description:
In Aragosta a Colazione (A lobster for breakfast),  an Italian comedy,  Carla Spinosi is married to Mario, who is having an affair with Monique Dubois,   a gorgeous, Swedish flight attendant.    Carla leaves on a short business trip to Geneva, but when her flight is cancelled, she returns home.  In order to hide his affair, Mario,who has been warned that Carla is coming,  asks Enrico Tucci,  an old friend  to pose as Monique's husband. He agrees.  When  Carla falls for the ruse, the four of them go to a restaurant.  Unfortunately, Mario picked a restaurant where Enrico's wife works.
Review: Aragosta a Colazione a.k.a. « Une Langouste au Petit Déjeuner » (A lobster for breakfast) is an Italian/French production starring actors from many different countries, which means that, whatever version you see, some of them are dubbed. I've been looking for a long time for the French version, which should showcase the voice of Claude Brasseur, one of the two male leads, the other one being the Italian Enrico Montesano.
But, let's be honest right now, neither of them is Apollo, so whatever our tastes, we'll rather pay attention to the ladies who include Silvia Dionisio, Claudine Auger and a very often naked Janet Agren. Because, yes, this is the kind of comedy that includes a lot of gratuitous nudity. Need I say more ?
Oh, the plot, you mean ? How should I know ? I tracked the French version, yes, but all I could find was the Italian one, here included, and I don't know enough Italian to understand a comedy. An action movie, perhaps, but not a bloody comedy. All I can say is that Brasseur seems to be married to Auger and cheating on her with Agren. Presumably much hilarity ensues. Presumably of the rather cheap and vulgar kind, but that's just the way it looks. Again, I could be completely wrong about that.
I couldn't find any but Italian subtitles. Since they fit the avi, I included them in the torrent. With the srt file and the movie, anybody who knows enough Italian and English could make English subtitles (I'd settle for French ones but that's just me). Count me in for 2000 credits.
I'm also offering a lot of credits for the French version, especially if it's 92 minutes long, as per the imdb, while the Italian one is only 89. But maybe this is just a difference between video systems, I never could fathom those damn things.
Not my rip. This comes from emule. Thanks to anybody who upped and seeded it.
In Italian with optional Italian subtitles.
Screenshots:
Download: