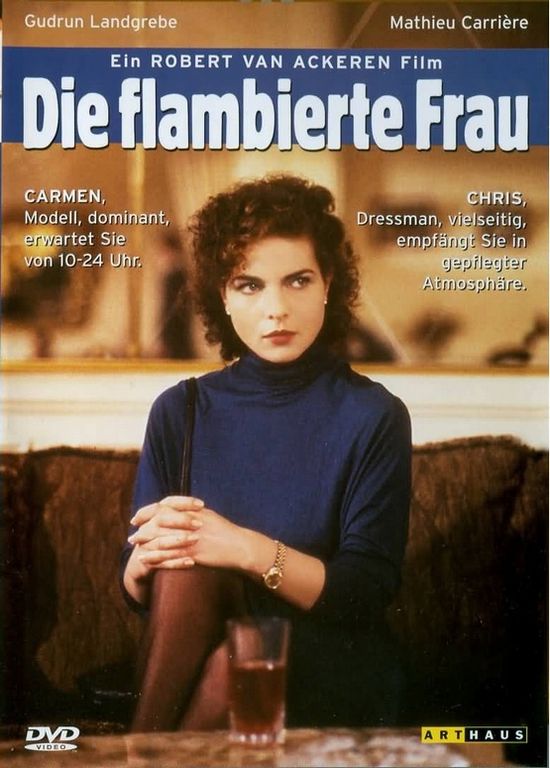 Year: 1983
Duration: 01:40:05
Directed by: Robert van Ackeren
Actors: Gudrun Landgrebe, Mathieu Carrière, Hanns Zischler
Language: German (English Subs)
Country: West Germany
Also known as: Die flambierte Frau, A Mulher em Chamas, De geflambeerde vrouw, Die flambierte Frau, Flambovaná zena, I gynaika kaigetai, La donna in fiamme, La femme flambée, La mujer en llamas, La mujer flambeada, Liekitetty nainen, Testek csábítása
Description:
In this serious, compelling, German, erotic, drama  director Robert Van Ackerman made one of the most controversial films in German screen history.  In it, Eve (played by beautiful German actress Gudrun Landgrebe), a well-to-do house wife married to a controlling  man whom she no longer loves,  becomes fed up with  her boring life.  Wanting a change,  without warning, she packs a suitcase, leaves, and, under the tutelage of an experienced prostitute, Yvonne,  becomes a prostitute. As she learns her new profession, a new man,Chris, with whom she falls in love  enters her life.  They quickly become tender, passionate lovers.
Chris makes his living as a male prostitute, providing sexual services to needy men and women. Eve moves into his house, where, upstairs, she can offer her services, too.   Increasingly, Eva  caters to  masochistic clients, playing the role of dominatrix. Chris can hear the sounds of the masochistic clients  coming from upstairs.  Jealous, he demands to know  how she is making so much money. She tells him that she gets it by hurting men; the  more she hurts them, the more they pay.   Upset by what Eva is doing,  one day, Chris goes upstairs and watches her  binding a man  to a chair, hurting him. Chris stares at her accusingly. She returns the look proudly, obviously getting satisfaction from inflicting the pain.  Chris, who fears that he is getting too old to be a male prostitute and wanting to open a restaurant, proposes new life for them  He suggests that they get married and have a child.  She, however, does not want to be part of the new life and responds by telling him that she dreamed of hitting him, and in the dream he liked it. The chasm that separates them  provides the basis of the film's dramatic ending, as they decide what their futures will be.
Woman in Flames could easily be classified simply as an exploitation movie, but that would unfairly diminish its considerable artistic value.  The film's exploration of sado-masochistic sex is provocative, but it is Landgrebe's superb performance as Eve which justified the film's selection as  Germany's entry for the Best Foreign Film Oscar.
Review: One day, Eve realized that she was tired of living strictly with her husband: a successful but utterly correct and conservative businessman. Without thinking, she packed a suitcase and went aimlessly. With the help of his old friend she met Yvonne, who helped her to enter into the world of elite prostitution, who discovered the woman previously Mysterious her horizons. And together with her new boyfriend Chris, who also earns his living by hard work gigolo, they are ready to move mountains. Here are just a dream Chris about his own restaurant, and a quiet life as a bourgeois alarming Eve …
Screenshots:
Download: