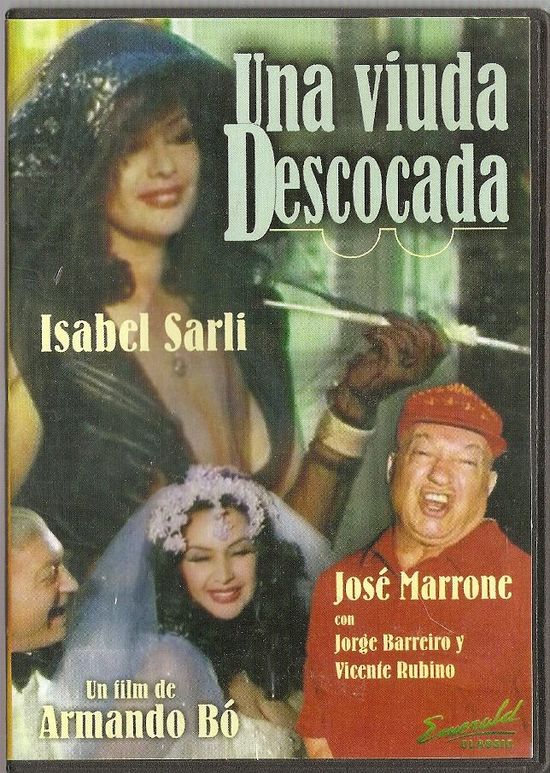 Year: 1980
Duration: 01:37:27
Directed by: Armando Bo

Actors: Isabel Sarli, Jose Marrone, Jorge Barreiro

Language: Spanish
Country: Argentina
Also known as: Una viuda descocada
Description:
It´s a comedy with a known argentinian variety theater´s comedian named José Marrone and our big breast latin bombshell.
Directed by Armando Bó. This was his last film, he died a year later.
There´s some silly decadent comedy going on but the main attraction is to watch La Coca swimming, full naked or half naked indoors, rubbing her big breasts in husbands´s faces or just walking with low necks making all men getting fool with her.
Sarli´s acting is disastrous, as always, and her eroticism quite naïve with some hot lines like "I love sausages!".
But there´s something more about her that´s going to keep you watching 😛
She plays an 8th time widow who is now broke (oh what a poor little thing….) only because she spent all the money HE had.
The plot tells us her relationship with one of her new husbands, an owner of a meat processing plant. Right until the day he dies.
She called him daddy, asked him if she really was her little girl. Poor guy, he couldn´t resist her sexual needs.
After this guy´s death, a humble and kind-hearted newspaper´s seller shows up at her house, trying to help La Coca with some money. She refuses and keeps looking for a new wealthy husband. The thing is, pepe (the newspaper guy), won the lottery.
A guy that couldn´t even dream about having sexy women like her on his side, and in the past (with his friend) often spied her naked in her swimming pool, has a golden opportunity: Now he can marry the boobies.
Wait a second there… That would be too easy for a movie. Before that, he´ll have to do some effort disguised as woman, as the cook she´s needing at her house…
VERY shitty material. Ideal for wipfilms because it´s bad as hell. Enjoy!
Screenshots:
Download: