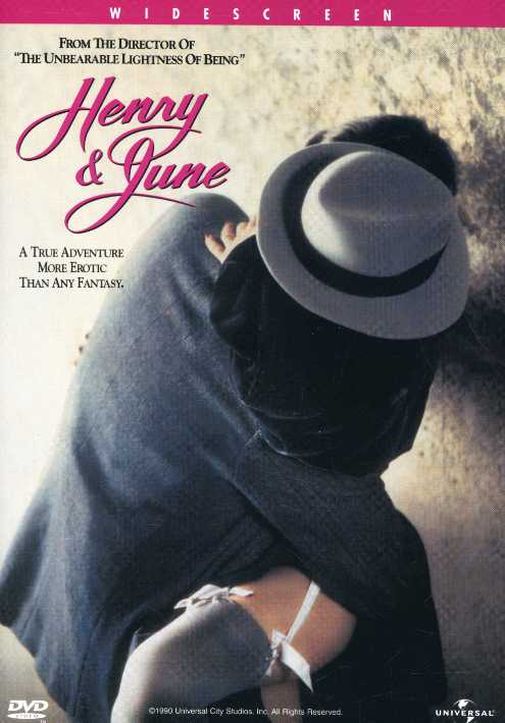 Year: 1990
Duration: 02:16:08
Directed by: Philip Kaufman
Actors:  Fred Ward, Uma Thurman, Maria de Medeiros, Kevin Spacey
Language: English
Country: USA
Also known as: Henry y June, Henry & June, Henry & June – Delírios Eróticos, Henry és June, Henry e June, Henry et June, Henry i June, Henry ja June, Henry kai June, Henry og June, Henry ve June
Description: Longing for strong sensations, the charming writer Anais Nin spends her days behind describing her erotic experiences in a personal diary. Its existence does not bring any pleasure: the life isdreary and cloying. She has enough free time for ten men, a decent but dull husband is bored to distraction, and seemingly nothing can wrest Anais unleavened life.
But at this moment appears an amazing couple: a strange, vulgar Henry Miller and his mysterious beautiful wife June …
Review: Erotic drama Philip Kaufman's "Henry and June," published in 1990, was the first controversial film of the new decade, failing to pay off at the box office and become a cult for many moviegoers. Tape in a very frank manner tells the audience the story of a strange love triangle consisting of the writer Henry Miller (Fred Ward), known to many readers of the book, "Tropic of Cancer" and "Seksus" young writer Anais Nin (Maria de Medeiros), wrote stories erotic persuasion and his wife, June (Uma Thurman). Part of the film is based on the biographies of these people, but so many moments artistically reinterpreted writers. As a result, the director paints a portrait of an era of the early 20s of the 20th century, when people began to truly liberate both spiritually and physically. The director explores the nature of love and human sexuality through the lens of the life of the main characters living their desires and passions.
The film is full of fierce and wild passion. Erotic scenes from the operator Philippe Rousselet, with Uma Thurman, beautiful in this picture, like Aphrodite, Fred Ward and Maria de Medeiros, shaking her beauty and sensuality. Acting, the game surprises and delights, because the actors are not so much a game as leading lives of his characters. In addition to the beautiful trio in the film appears briefly Kevin Spacey (Richard Osborne) and Richard Grant (Hugo), created a very memorable way.
Soundtrack Mark Adler creates the picture veil romance and poetry, to feel the atmosphere allowing the tape.
In the film, perfectly capture the era of the 20's, so I would recommend this as a great movie fans retrodram and movies with erotic tinge.
Screenshots:
Download: