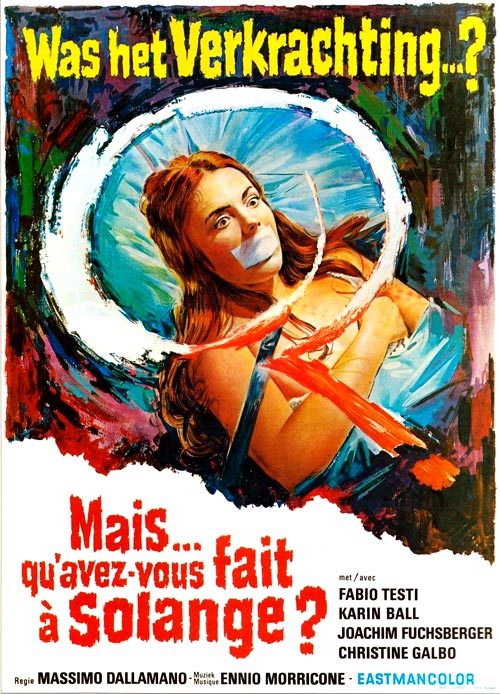 Year: 1972
Duration: 01:42:45
Directed by: Massimo Dallamano
Actors: Fabio Testi, Cristina Galbó, Karin Baal and Joachim Fuchsberger
Language: Italian (English subs)

Country: Italy | West Germany

Also known as: Cosa avete fatto a Solange?
Description: A teacher who is having an affair with one of his students takes her out on a boat. They see a knife killing on shore. Other gruesome murders start occurring shortly thereafter, and the teacher suspects that he may be the cause of them.
The film starts with a schoolgirl (Galbo) and her teacher on a boating trip. He seems to be getting somewhere in his advances until she claims she's seen something nasty on the shore. When one of her classmates is found dead the next day, it's clear she did indeed spot something. The teacher, Rossini (Testi), starts his own investigation and soon realises unpleasant things have been going on at the school.
As you would expect from a film made by a cinematographer, Solange is nicely shot. But it also has a plausible plot and well-sketched characters to go along with the grisly murders, naked girls, hints of lesbianism and anything else you might hope for in an Italian film set at a girls' school. There's plenty of 1970s atmosphere too, although actual Londoners might find the depiction of the capital somewhat disconcerting.
Screenshots:
Download:
What Have You Done to Solange? 1972