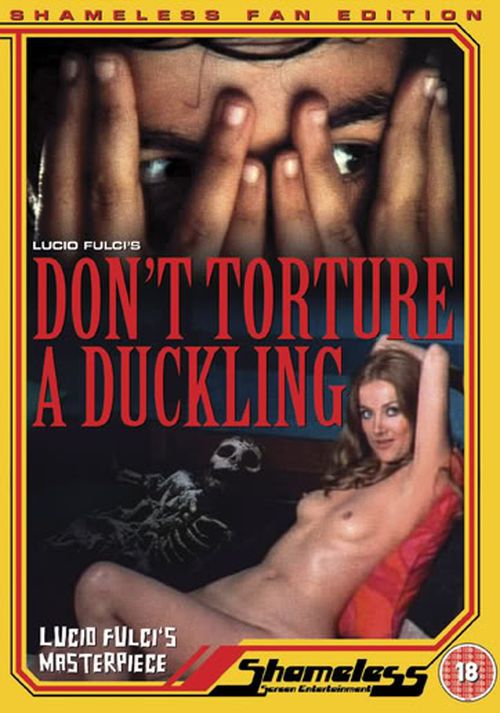 Year: 1972
Duration: 01:42:33
Directed by: Lucio Fulci
Actors: Florinda Bolkan, Barbara Bouchet, Tomas Milian and Irene Papas
Language: English
Country: Italy
Also known as: Non si sevizia un paperino, Angustia de silencio, Fanatismo, La longue nuit de l'exorcisme, Les poupées de Sang
Description:  In a secluded village, where superstition is adjacent to the sex, killed several young people. It is not clear, not only the murderer, but the motives of these violent crimes. The first to fall under suspicion was local Fool Giuseppe and mysterious witch, making horror at the district.
Review:  Good and worthy representative of the Italian Jalla thriller from the well-known film director Lucio Fulci.
The name "Don't Torture a Duckling" more accurately reflects the essence and message of the film. Really sorry to contemplate such a brutal beating of a beautiful "witch", also innocent. A fault that was just the one to whom it was possible to think only in the last turn.
This film stands apart from the trash-horror Fulci ("City of the Living Dead", "The New York Ripper", "Contraband".) In those tapes has focused on the demonstration of physical violence, bloody and spectacular scenes murders. course, there are also present, but the focus shifted to a detective and mystery component for the audience: who is really a serial killer? I confess I was even surprised that it was not the most beautiful and rich girl, and how much was Lucio Fulci expectations … is deliberately playing with the audience, to make a surprise at the end.
Of the benefits are well worth noting as to convey the atmosphere of a closed Italian town, music, and the minimum number of scenarios blunders, especially in comparison with the aforementioned horror (except for "flesh eaters" – my most favorite film Fulci).

Screenshots:
Download: