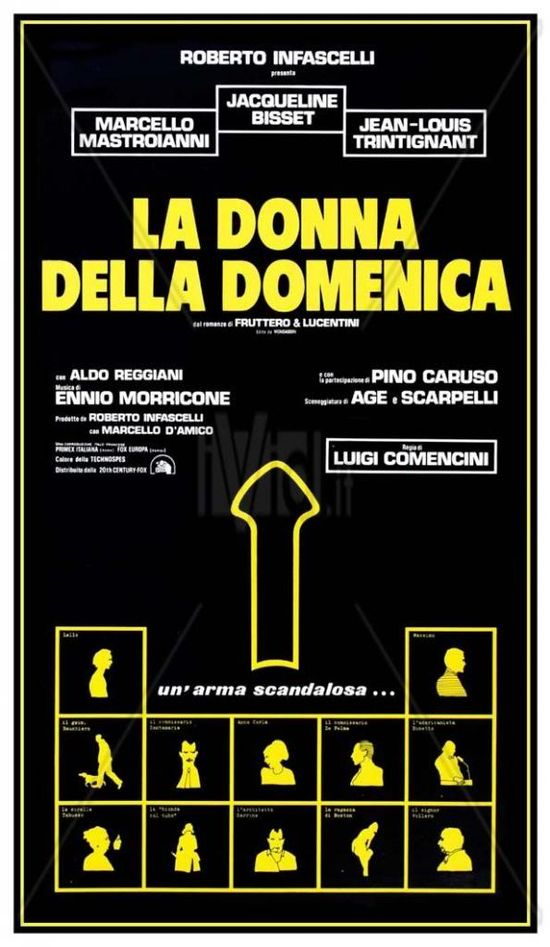 Year: 1975
Duration: 01:44:44
Directed by:  Luigi Comencini
Actors: Marcello Mastroianni, Jacqueline Bisset, Jean-Louis Trintignant
Language: Italian (English Subtitle)
Country: Italy – France
Also known as: The Sunday Woman , La donna della domenica
Description:
In this Italian thriller starring Jacqueline Bisset and Marcello Mastroianni,  Commisioner  Salvatore Santamaria  (Mastroianni) of the Turin police department is assigned to investigate  the murder of  Garrone, a slimy, disgusting architect.  In the course of investigating the murder, the police interview a witness – the man who discovered Garrone's body.  He said that he had seen a tall, blonde  woman wearing a thin raincoat leaving the building where Garrone's murder took place.  Though the witness  said that the woman did not appear to be attractive, he could not see her face and could not identify her.  Santamaria considers  the  the beautiful, Anna Carla  Dosio (Bisset) to be a suspect,  as he is aware that she had written a letter to Massimo  in which she stated that Garrone was a slug who deserved to be eliminated once and for all.  Moreover, Anna Clara has no alibi.
Still, there are other suspects  besides Anna Clara, including Massimo Campi,  Anna  Clara's  gay,  platonic friend.  Campi has a lover, Lello Riviera, to whom  Campi explains that he is suspected of killing Garrone. In order prove Massimo's innocence, Lello launches his own investigation into the murder.  Then another murder  takes place.  The question remains:  who is the murderer?
Note:  This movie is incorrectly classified as Slasher and Giallo.  It is a murder mystery. There  are two murders, but neither is shown.   Neither was done with a knife. There are brief shots of the bodies and a little bit of blood.  Not all Italian murder mysteries are Giallo.  It should be classified as Rape, Revenge and Criminal Cinima.
Review:
Screenshots:
Download: