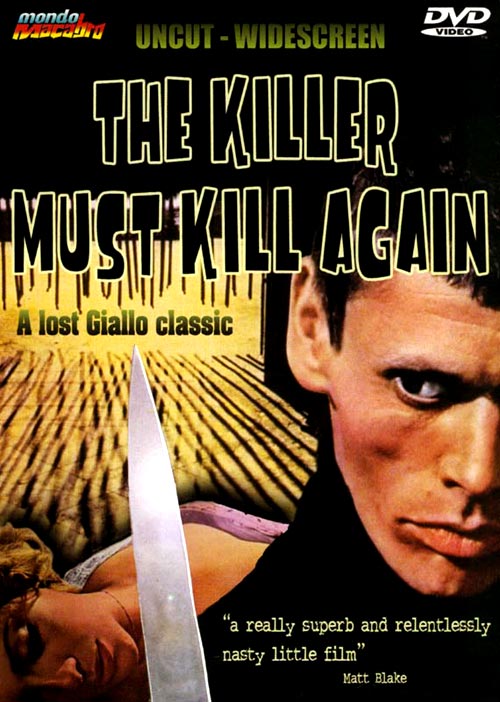 Year: 1975
Duration: 01:30:27
Directed by:  Luigi Cozzi
Actors:  George Hilton, Antoine Saint-John and Femi Benussi
Language: Italian | English
Country: Italy
Also known as:  Il ragno, Matador Implacável, O dolofonos xanahtypa, Dark Is Death's Friend, The Killer Must Strike Again
Description: Henpecked Giorgio Mainardi, who became an unwitting witness of how a killer in black rid of the corpse of a young girl. Giorgio signs deal with this man, "ordered" him his wife, hoping to get a large inheritance. Everything had to be furnished with the kidnapping, and the first part of the task killers have gone smoothly, but when he put the corpse in the trunk of his Mercedes, and returned to the house to cover his tracks, a couple of crazy youngsters hijacks the car. The killer, of course, rushes to the chase, and Giorgio cunning plan begins to crumble …
Review: No black gloves, no murder suspects, no convoluted plot. The facts are given right from the beggining and viewers don't have to guess.  Why this works so good?
I think Cozzi is a great director, he uses cinematic elements with such talent: the masterful cinematography, editing, the Herrmanian and psychedelic 70's rock score, the great camera work and also acting: Michel Antoine's psychosexual, deranged face and mysterious motifs, George Hilton (BEST PERFORMANCE?) as the bad husband, Cristina Galbo magnetism and beauty in a breakthrough role, Mexican Teresa Velázquez -she has an amazing making love scene with Hilton- and italian hottie Femi Benussi give life to this well done art shit.
Narration is the main focus and Cozzi knows how to do it with genius pulse, this is kind of a road movie with Hitchcock as the main influence. There are explicits homages to the Master: Strangers on a Train, Psycho, Dial M for Murder, Frenzy…. We know more than the characters- as Sir Alfred taught us on how to create suspense- and feel that beautifully guilty voyeur feeling.
Sci-Fi lovers will be pleased with the use of lights here, especially with the car scenes at night. Cozzi makes a car look like a spaceship, the way he filmed the interiors and the flashy trippy lights of the outside, he creates a dreamy world of abstract forms but, most impressive, immerse in a city night, urban mood. At least, until last part of the movie in a sunny day in the desolated villa, as the car chase ends we realize that this is an sleazy and violent italian thriller with such a cool sense of humor. Enjoy!
Screenshots:
Download: