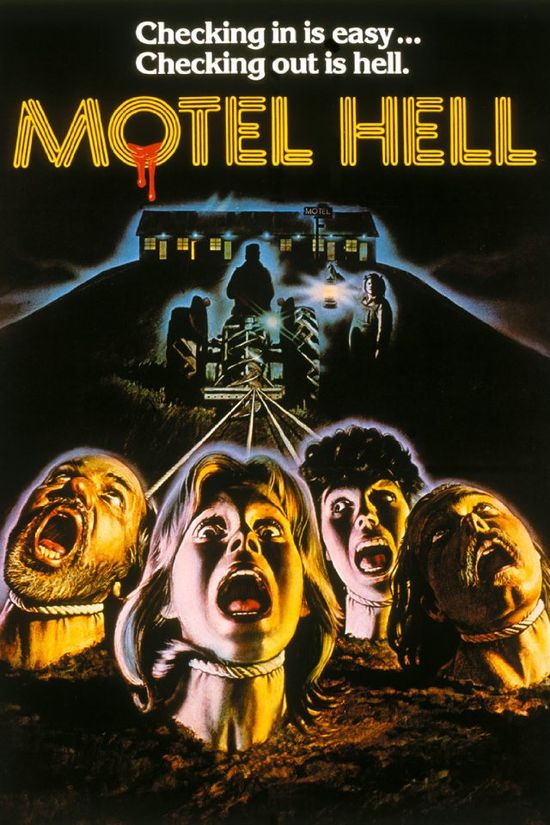 Year: 1980
Duration: 1:40:33
Directed by: Kevin Connor
Actors: Rory Calhoun, Paul Linke, Nancy Parsons
Language: English
Country: USA
Also known as: Granja macabra, Hotel zur Hölle, Helvetes motellet
Description: Vincent and his sister Ida are the owners of a roadside motel, and they also own a fabric which produces sausages, which have a good reputation in the city. When people ask Vincent a recipe of this delicious smoked meat, he say that its origin goes back to his grandmother, who loved to fumigate with smoke anything that moves and stirs. But grandmother's grandson brought passion to the extreme.
It turns out that night Vincent and Ida beat to a pulp settles of their motel , and then bury them alive in the garden leaving only their heads at the surface. They fumigate them with a fragrant smoke, fed, and after some time the bodies are the original material of their famous smoked meat … Motel Hell reminds me another bloody flick called Mad Butcher
Review: If you spent a Saturday off from school as a kid watching a cheesy old sci-fi or horror movie within a 50-mile radius of a number of major cities in the US, then chances are you watched them with a friend. That friend, of course, would be a television host, usually dressed in flamboyant make-up and broadcasting said movie from an outlandish set. Such was the origin of the Horror Host, a cult corner of the starving artist group that persists to this day. If you had cable, then you might have had the opportunity to see Elvira, Joe Bob Briggs, or even Grampa Munster join you on the viewing couch, but most of you probably remember a local television unknown with a much smaller budget. Although I knew of Elvira, my first real adventure into the Horror Host domain came at age 10 in  Tampa, Florida, with one of the most well-known and longest-running hosts of the century, Dr. Paul Bearer. I watched his show with a passion every Saturday afternoon, and he always showed a movie I loved.
The last 4 years of the 20th Century hit their high point when Dallas film critic and drive-in movie aficionado John Bloom (known to his fans as Joe Bob Briggs) came out of the woodwork again to offer his remarkable insight and down home humor to the masses. He wasn't hosting cheesy drive-in movies on The Movie Channel anymore, but he did have the benefit of the massive TNT movie vaults at his disposal, resulting in the Horror Host classic Monstervision. Every Saturday night, Joe Bob (AKA John Bloom) hosted as many as three movies in a row on his best outing, providing trivia, jokes, and odd stories of woman troubles as the movies progressed. He even welcomed a handful of celebrity guests (such as Ice-T, Roddy Piper, Clint Howard and Wes Craven) during his Joe Bob Summer School broadcasts to offer some of the best commentary any Horror Host show had to offer.
Week nine of Joe Bob's 1998 Summer School Session was one of my all-time favorite Monstervision double features: Motel Hell and Return of the Living Dead Part II. Here for your viewing discomfort is the first movie in Joe Bob's special dermatology class and a true classic in the realm of horror comedies. Tourists come from all around to the revered Motel Hello to buy Farmer Vince's famous smoked meat products, and everyone is dying to know his secret ingredient. The problem is that those who find out what that secret ingredient is… ARE the secret ingredient.
Join Joe Bob and guest lecturer Dr. Vail Reese (dermatologist and founder of skinema.com) as they plow through flesh eating film badness while discussing skin and the effects of cannibalism on the human complexion, and keep licking your fingers for the forthcoming second half to be uploaded soon. Oh, and commercials are intact on this feature, so take your Propecia and grow some hair while you watch, you balding freaks.
Review #2: "Motel Hell" – a very sweet screwball comedy Kevin Connor, telling the relatives-myasodelah from the provinces and their very unusual eating habits. Hearing the name of the movie, I immediately drew in his head, something like Hitchcock's "Psycho", shot in the entourage of "Texas Chainsaw Massacre". In fact, the literal name of the motel was «HELLO» and in the film, he almost did not appear.
By the way in the film can be traced quite clear link with the "Planet Terror" Rodriguez (and here and there are two brothers, one of whom myasodel and another sheriff) and "Texas Chainsaw Massacre 2" (the final battle for chainsaws). The plot of the film is very simple: in the home to two butchers, cannibals gets young girl. Those taking her under his wing. Later, they are joined by the local sheriff (brother of the butcher), the motel is «HELLO» corpses filled with new people …
Diluted all with lack humor, so black that you do not even know – it's a comedy or a tragedy. People are being killed for real, but it looks very funny. Why are only these sizzling on a bed head. In the film, a lot of banter – including on family values ​​of the protagonists. Something similar happened in the second "Texas Chainsaw Massacre", which also borrowed a lot of this kinase. Another interesting idea sounded from the main manyachiny. Something like "The earth is full, there was not enough food. I'm trying to simultaneously solve both of these problems. "
Then of course the director went over to the "meanings" has tried to mix the "non-mixed".  Because of that I can not be called "Hell motel" no successful horror film (although the final battle was good), or a successful comedy. The film lacks something, and fixed costs of taste from the author so difficult. The acting, too, was strange, I did not understand. So called "Hell motel" a masterpiece in the horror genre, I can not, but I can classify it to the classic black comedy. The film is worthy to be looked at it, and I'm sure there will be those who will appreciate this movie is appreciated.
Screenshots:
Download: