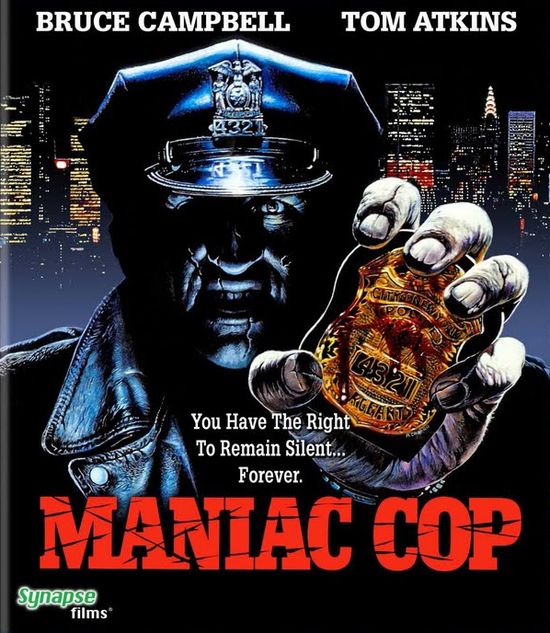 Year: 1988
Duration: 01:25:01
Directed by: William Lustig
Actors: Tom Atkins, Bruce Campbell, Laurene Landon
Language: English
Country: USA
Also known as: Poliziotto sadico (Italy) | Maniac Cop – A Vingança (Portugal)
Description: A girl runs from a pair of robbers to ask a police officer for help… only to have her neck broken by him.
This is the start of a murderous rampage that will make all the citizens suspect every single cop they meet.
The case seems to be solved as Jack, a police officer having an affair with a coworker, has his wife killed on the same motel room she found him cheating.
Only the Captain believes Jack is not the culprit, and that the real killer is but that is insufficient to prevent the rest of the police to leave the search for the killer cop and go on the celebratory parade.
So when the real killer cop show up to attack the precinct
Review: With some nice ideas made from a premise full of potencial, this is a film that could have originated a real cult was it not for a lack of both gore and rythim. Still, some good scenes like the fight in the prison showers and the presence of Bruce Campbell makes for an interesting view.
One of the most bizarre and terrifying at the same trash-fighters, "Maniac Cop" is attractive only from the point of view of the mysterious title character. Of course, the issue of corruption in police circles and duplicity of law enforcement at that time was not so commonplace in movies like this. And you can not say that I got very very stupid and primitive horror, as it positioned some very impressionable viewers. The director Lustig almost all of his work on the kooky cops, or are killed in a particularly cruel way, or simply dismissed. In this connection, the main character turns into a maniac, terrifying the whole city.
In this case, NY. On the streets resurfaced serial killer, brutally killing everyone, thus exposing the police in an absolutely helpless. And so when they begin to receive information that maniac dressed in police uniforms, everything becomes frankly uncomfortable. This is about the same as it was in the "Robocop 2", when a potential metal guard of the order Kane turned into a killing machine. In this case, to prevent the risen from the dead, Matt Cordell can only Tom Atkins and Bruce Campbell, who eventually dug out a possible cause of the "madness" evil cop.
Screenshots:
Download: