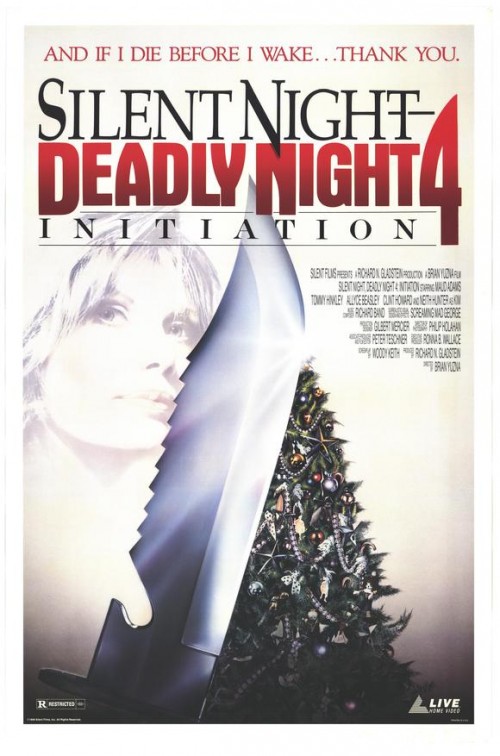 Year: 1990
Duration: 01:24:33
Directed by: Brian Yuzna
Actors: Clint Howard, Neith Hunter, Tommy Hinkley
Language: English
Country: USA
Also known as: Initiation: Silent Night, Deadly Night 4, Natal Sangrento 4, Ritos satánicos, Douce nuit, sanglante nuit – l'initiation, Bugs, Initiation ,Welcome to hell
Description: I did not think and wonder what , after seeing me three inconclusive slasher I Feel plot of the fourth film , slasher who has absolutely nothing in common. It turned out that the mystical occult thriller theme of " Silent Night , Deadly Night" turned out as much better than the penny slasher killers dressed as Santa Claus . Abrupt change of style is not the first time going to the movies : to recall at least a third of the " Maniac Cop " (1993) , the ninth of "Friday the 13th " (1993) and the fourth film about the adventures of the doll Chucky (1998).
The film really is intriguing and keeps the audience in suspense as compared to previous installments . The feeling of a big mystery throughout the film is able to keep the audience from the screen. Kvadrikvel look at one breath and with a sinking heart . For the main character Kim really start to worry . The story itself – the original , especially given the past series " Silent Night, Deadly Night ." Slasher always put at the heart of the killing of a female. It is an old and sick theme , for details refer to the documentary "In pieces: The Rise and Fall slasher ." But kvadrikvel coolly turns misogyny topic in the opposite direction . Here women are the stronger sex and hatred are men. Really a paradox for the originally – slasher series – so serious changes in their vision and style. But here it is worth mention of the fact that the film will appeal to those who have been touched by the first part of " Silent Night , Deadly Night" and is already on the machine looked two consecutive poor sequel. Such viewers deem kvadrikvel Pentalog and the worst part is not surprising. Because slasher with the fourth part , fortunately, has nothing to do .
Verdict . If you like thrillers occult themes , the film "The Initiation : Silent Night, Deadly Night 4 ", I think , to your taste . The rest of the watch at the same time , I strongly advise you , because they are all different in spirit and style , and do not look like what you see in this film .
Review:
Screenshots:
Download: