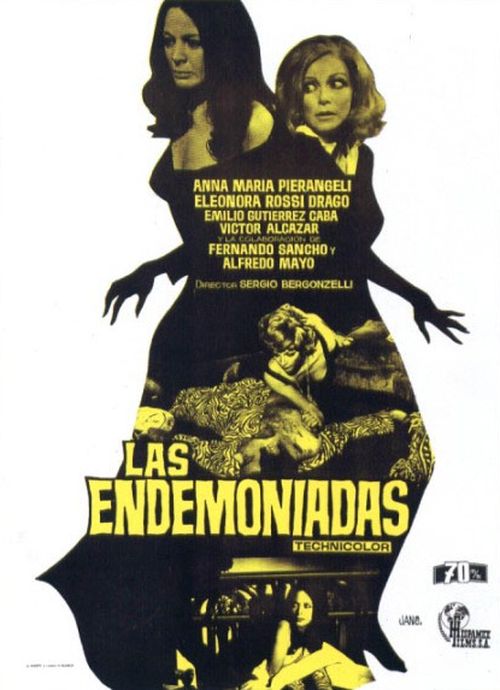 Year: 1970
Duration: 01:32:23
Directed by:  Sergio Bergonzelli
Actors:  Eleonora Rossi Drago, Pier Angeli, Fernando Sancho
Language: English
Country: Italy

Also known as: Nelle pieghe della carne; Dans les replis de la chair; I oraia fonissa; Las endemoniadas; Libido; Ta matia pou mantevan to eglima
Description: In the folds of flesh is a film production of Spanish-Italian horror genre, written and directed by Sergio Bergonzelli, filmed in 1970 in Abruzzo, in the municipality of Pineto, mainly to the Tower of Cerrano, then family residence Marucci.
The cast-known Italian actor Eleonora Rossi Drago, Anna Maria Pierangeli, Luciano Catenacci, Maria Rosa Sclanzero Alfredo Mayo and Spanish (Alfredo Majo titles), Fernando Sancho and Emilio Gutiérrez Caba. A small part has also had a family member owns the tower, in the role of the psychiatrist.
The film had an English edition (titled In the folds of the flash) and was distributed in Spain and France.
In a villa in Brittany, the young Falaise, the housekeeper and Lucille Colin, dissolute nephew of the latter, they receive a visit from Michael, cousin of the hostess, who immediately met with skepticism, even at night is killed stabbed by the same Falaise. The same fate comes not long after, a friend of the deceased, came to seek his information. In both cases, the compliant Lucille, helped by his nephew, shall cause to disappear the cadavers. One night, a murderous gypsy, Pascal, escaped from prison, entered the villa is installed, and taking his involuntary guests under the aims of the revolver, trying to extort them, threatening serious revelations, a large sum of money and Lucille Colin however, succeed in killing him. Some time later, the three inhabitants of the house was visited by a man, Andre, who claims to be the father of the young hostess. He, however, is a police officer, who can, with quell'espediente to shed light on the many crimes committed and Lucille expose, showing that Falaise is in fact the daughter of the same ruler, mad at the time for a violent psychic trauma. While the real Falaise, hitherto confined to a nursing home and resumed possession of the villa, Lucille kills himself.
Screenshots:
Download: