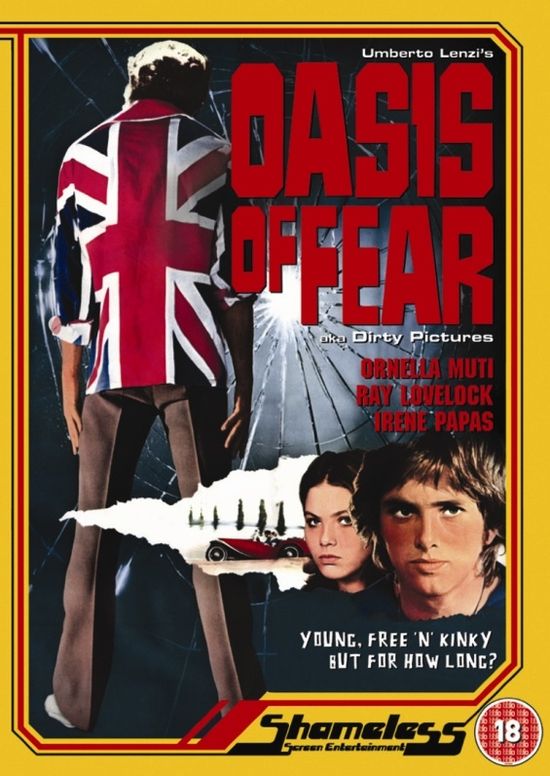 Year: 1972
Duration: 1:25:38
Directed by: Umberto Lenzi
Actors: Irene Papas, Ray Lovelock, Ornella Muti
Language: English Dubbed(English subs provided)
Country: Italy, France
Also known as: Un posto ideale per uccidere (original title), Deadly Trap, Love Stress
Description: In Pisa police arrest them for what Ingrid was trying to sell photos of a minor. The police ordered the young men to leave the country within 24 hours. But Dick and Ingrid acquainted with bikers and decide to linger in Italy. However, at night bikers steal their money and leave. The next day, the car travelers gasoline opposite ends luxurious mansion. Young people knocking on the door but no one answers them. Assuming that no one is home, Dick and Ingrid decide to take a little bit of gasoline from the garage. Surprisingly, however, there is a young housewife named Barbara estate. Seeing the strangers, the woman is frightened and is going to call the police. But then changes his mind, allowing young people to get gasoline. After that invites them to dinner. Barbara says that soon to come her husband. And when it does not appear that invites young people to spend the night in the house, as she is afraid to be alone. Young people agree and arrange a small party.
Soon Ingrid went to his room to sleep, and Dick makes love with Barbara. But in the morning the young people discover that locked in his room. They see Barbara throws the keys to their car in a well and carefully covering his tracks party held the night before. Dick realizes that Barbara had killed her husband and wants to substitute them. Indeed, a woman shot and killed her husband, and hid the corpse in the trunk of his car. When Dick and Ingrid discover the body, they realize that it would be difficult to justify. They bury the corpse, inflated Barbara hypnotic and run away from the estate. But when the mistress of the mansion comes to life, then calls the police and says that the estate before the thieves entered. One tprestupnik raped her and shot her husband. Police out to hunt for the Wild and Ingrid …
Review: Which is not only a job for a business of Umberto Lenzi (Nightmare Beach and Spasmo) in the vast third tier of Italian cinema. Which only genres did not work. And all the past, secondary and boring. But if you do not equate with Lenzi more talented colleagues, many things, it is quite watchable. "Un posto ideale per uccidere" – an early opus. Not to say that the movie came out a nightmare, but very enthusiastic about it.
The enigmatic title is like a two-star hotel lured megabannerom with a faded neon. For a low cost "all inclusive". Helpful doorman, friendly reception, cable TV, gourmet food, and even the girls in the room at a low cost. A banner is lying. No, the price, and, indeed, not great, but the doorman blind and with one leg instead of welcoming people – sullen faces, with rotten food, and girls better not to see, that is not laid up with a heart attack. About the last things are not so sad. Very young Ornella Muti and juicy Irene Papas fees worked without fanaticism, but at a decent level. Undress in the frame, in any case, with a large hunting.
The boy and the girl romp in a sports car and sell pornography. When the store is good ending, making his own joy for convertible vehicles. And when the media runs out, money and gasoline … appears with a strange woman who lives in a mansion that has a craving for tantrums. If halfpenny flophouse realized their poor status, it could be a good sleep quietly watching the next Jalloh. But no. Before us is not Jalloh and not quite a thriller. Specifically, not only thriller. Umberto Lenzi restoring baroque suite controlled by tycoon Carlo Ponti. In small facilities fantasy walks without restrictions.
Аll inclusive. There's the idea of ​​sexual freedom, biker scandalous presence, military base and the missing general, violation of Puritan morality, lesbian and sadomasochistic passion. And the curtain convey greetings to Warren Beatty and Faye Dunaway. And very slippery surface, as befits a similar product. But here is the "all-inclusive" is trying to squeeze more respectability. Lenzi does not extinguish the energy of the artist and is trying to be serious, falling into a discussion on a given topic is not in breadth and depth. Fashion in the 60s and ideological concepts ostrosotsialnye strangely coexist in a limited space of a run-down of the project. Detective intrigue remains in the backyard and is devoid of suspense. On the way out is not too clear tasks. Even the bare aesthetics is not etched in my memory. A good stylist Lenzi was later having tested skills, and here, perhaps, yes Muti Papas encouraging.
Screenshots:
Download:
Dirty Pictures Un posto ideale per uccidere(original title) 1972 | Free Download
Dirty Pictures Un posto ideale per uccidere(original title) 1972 Eng Subs | Free Download