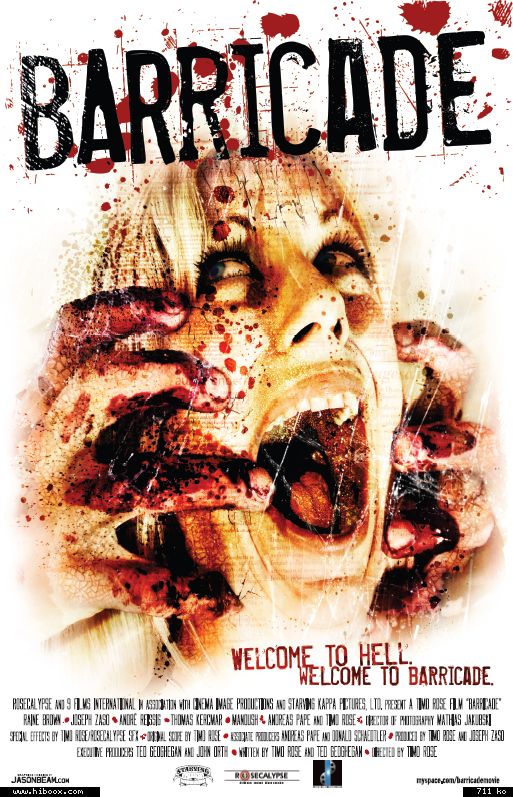 Year: 2007

Duration: 01:35:47
Directed by: Timo Rose
Actors: Raine Brown, Joe Zaso and André Reissig
Language: English
Country: Germany | USA

Also known as: Barricade: Welcome to Hell
Description: A group of friends are terrorized by a cannibalistic family while camping in The Black Forest of Germany.
Review: Faced with this film today, quite by chance. Surf the Internet and saw him. Finding that about him almost nothing is known, decided to find it and see, as I was always drawn to films about which little information, votes, reviews and everything else. I was searching for a long time, but still found, however, had to watch without translation, which is a bit complicated the situation. But I know English well, and yet figured in the film. Want to start talking about this movie with the fact that it uses a standard idea. That is – some people get on some unfamiliar territory, at the same study it, and then they are attacked. Or any monsters, mutants, or some killer who does not want uninvited guests. The film's director Timo Rose (Unrated: the Movie), caught at the idea, took mediocre horror and thriller that especially does not stand out, but the blood and other unpleasant things here may seem.
In the story, a woman named Nina went to Germany to see his friend to see him and visit. Came to him and rested, they and their friends decide to go have fun in the next Black Forest. Everything seems to be going well at first, they walk and talk, but then find out that in this very forest inhabited by bloodthirsty cannibals. And now the guys have to do anything, just to get out of this vast forest, as well as to escape from his bloodthirsty creatures, who do not know mercy and no mercy. Well, then do not have to say anything, as it is clear what was coming next. But, I think that is somehow slightly tightened, as a walk through the woods, yet still quiet, can be quite naskuchat. Perhaps this is done to extend the film. The fun starts when there are cannibals.
Screenshots:
Download: