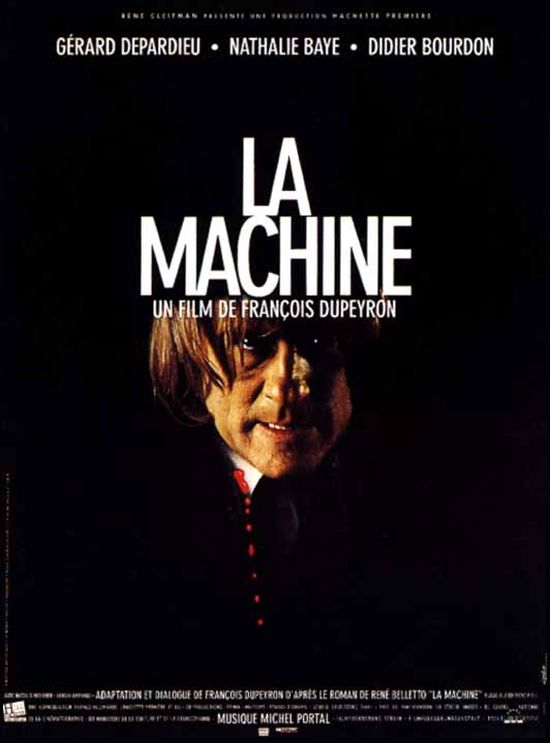 Year: 19
Duration: 01:31:53
Directed by: François Dupeyron
Actors: Gérard Depardieu, Nathalie Baye, Didier Bourdon
Language: French

Country: France | Germany

Also known as: The Machine, Die Maschine, La machine – un corpo in prestito
Description: La machine – a film in which Gerard Depardieu has shown that he can play well not only a positive character, but a negative one. And not just the negative and dangerous killer – serial killer.
About the film: Gerard Depardieu, who plays the role of chief medical psychiatric hospital, has created a machine that allows me to bodies. One day, he decides to test it against one of the most dangerous killers – killers, recognized by the court is not of sound mind and directed for treatment. The experiment does not end well. Maniac, once in the body of Gerard Depardieu, starts to give out as a doctor – a psychiatrist, a doctor himself, in the body of a maniac returns to the hospital, knowing that he still will not believe.
Maniac, once on the loose in someone else's body, continues to kill. The psychiatrist also understands that it can only stop it. But what it can do to the body being a maniac locked up in a psychiatric ward clinics, and even in a straitjacket.
Review: Well here goes nothing! I have been trying to get this film up here for all to enjoy. A marvelous mess of a sci-fi/thriller/horror flick in the vein of Face Off and starring everybody's favorite French actor; Gerard Depardieu. Depardieu is a scientisit who creates a machine that allows him to transfer his "being" a.k.a. soul into another body and vice versa. For insane reasons, Depardieu decides to try out this machine first with a psychopath who enjoys murdering women. Of course all goes awry and before you know it Depardieu is inside the killer's body and in hot pursuit as the killer takes over his family's helm with evil intentions. Very hard to find French flick that I originally copied from vhs to a dvd-r. Resulting disc plays fine and I was able to rip the disc. However I have had no luck compressing this to a DiVX or Xvid file. I am very green perhaps with this process. So I am upping the full dvd-r rip up here, as I really think the film belongs here at wipfilms. If anyone with more talent wishes to compress this and re-up in a smaller avi, then be my guest! I just am trying to give back some to all here for the many great titles I have found since arriving. Thank you all! Oh and this is in French with English hard coded subs. I don't think it has ever been released on DVD, though I would love to see it happen soon as the flick is a personal favorite of mine! Enjoy and cheers!
Screenshots:
Download: