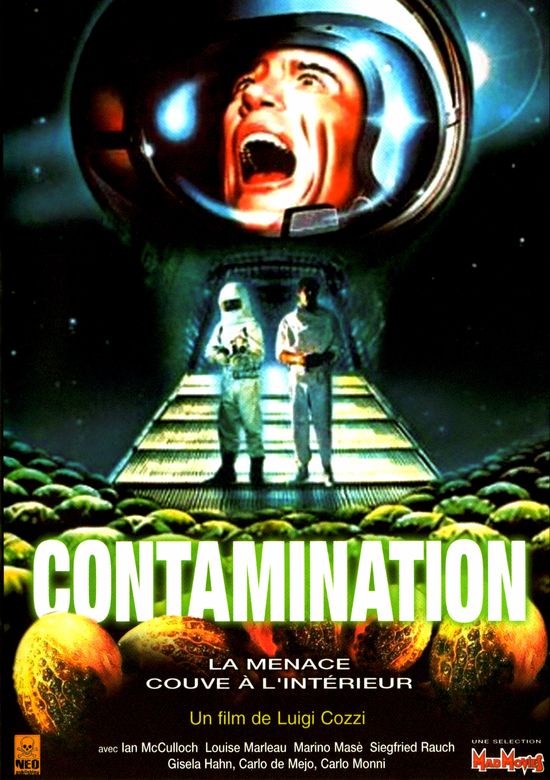 Year: 1980
Duration: 01:28:12
Directed by:  Luigi Cozzi
Actors:  Ian McCulloch, Louise Marleau, Marino Masé
Language: English
Country: Italy

Also known as: Alien – O Monstro Assassino; Alien Contamination; Astaron – Brut des Schreckens ; Contamination – Alien arriva sulla terra; Contamination: Alien on Earth; Die Brut des Grauens (The Astaron); Kuoleman koura; S.O.S. I Gi kindynevei; Skazenie; To ploio tou thanatou; Toxic Spawn; Uma Aventura Fascinante
Description: Coast NYPD finds going to the harbor at full speed cargo ship with no sign of life on board. Police descend on board and bring it to the coast, after which a small team of doctors and police proceed to a detailed examination of the ship. Soon the crew is, the truth in the form of mutilated human bodies with broken rib cage and dangling scraps of meat. In the hold of a ship, in the box in coffee, doctors detected strange green eggs are small, and one looks like a chicken egg, only translucent, with a pulsating light inside and a lot more than others. One of the doctors recklessly takes the egg in his arms … Filmed by Luigi Cozzi (The Killer Must Kill Again)

Review: The film is good. As for his time. Look interesting, but the minute you realize that what is happening is so unreal, but rather an explanation of what is happening that you look with undisguised interest. The more actors play very seriously and do not bungle.
Retell the story makes no sense, all tied and revolves around the green eggs. Of the effects should be noted pretty quality of make-up artists and fireworks (the characters explode very high quality).
To say that this is pure horror, I would not. There are tough moments, but the "meat" in it is almost none. Small budget consumed sparingly, many plywood scenery, but they do not irritate.
Screenshots:
Download: