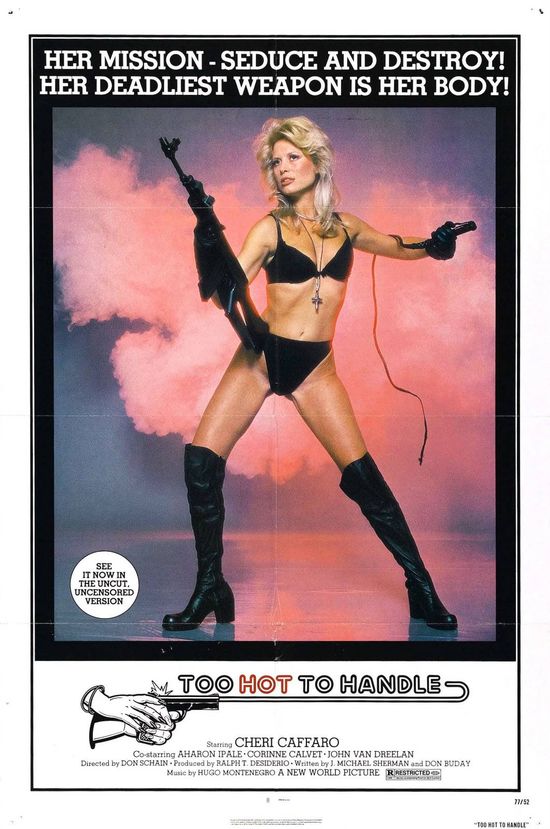 Year: 1977
Duration: 01:25:53
Directed by: Don Schain
Actors: Cheri Caffaro, Aharon Ipale, Vic Diaz
Language:  English
Country: USA | Phillipines
Also known as: Bella y peligrosa, Die tödliche Lady, Final Hit, Liian kova miehille, Samantha Fox missione Manila,
Description: This is a very enjoyable exploitation romp.  Caffaro is a hitman taking out the criminal underworld in the Philippines.  If you're a white slaver, or a smuggler, or a drug lord you better watch out!!!  But this hitman doesn't just shoot your ass (usually).  She's going to kill you in some sort of bizarre semi-accidental looking manner.
Unfortunately she's got a soft spot for detectives who wear smokin' ass leisure suits with awesome ties and clown-sized collars with super sweet kung fu skillz.  Will it be her undoing?  Are her kung fu skillz a match for her pimpalicious detective boyfriend's?  Or will the two of them settle down and make little kung fu pimpalicious fashion challenged hitbabies?  I don't know, but when you're thinking about maybe making some kung fu pimpalicious fashion challenged hitbabies the best thing you can do in the interim is get in a little practice.  And they do.  So download this sweet ass flick today.
Here's what you get:
A Somewhat Manly Looking Super Slutty Chick
Death By S&M Freaky Deakyness
Titties
Babymakin' Practice
Death by Bath Salts
Explosions
Death By Facial
Leisure Suits
Review: The film "Too Hot to Handle" about the adventures of women killer entrusted to remove four Mafiosi in the Philippines.
Screenshots:
Download: