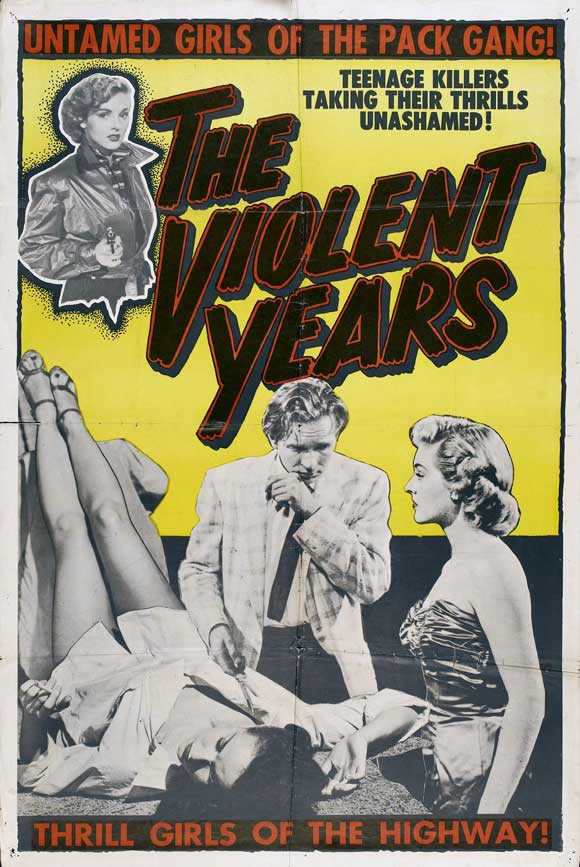 Year: 1956
Duration: 00:56:43
Directed by: William Morgan
Actors: Jean Moorhead, Barbara Weeks and Arthur Millan
Language: English
Country: USA
Also known as: Female, Girl Gang Terrorists, Teenage Girl Gang
Description: A newspaper publisher's daughter suffers from neglect by her parents. She and her friends turn to crime by dressing up like men, holding up gas stations, raping young men at gunpoint, and having makeout parties when her parents are away. Their "fence" gets them to trash the school on request of sinister un-American clients, and they run afoul of the law, apple pie, and God himself.
Review: The film tries to come of as heavy handed and moralistic, but only manages hilarity because they did try to cram everything into it. And, for the most part, they succeeded even though Paula's pregnancy comes off as an afterthought and seems thrown in just for the hell of it. She has cramps, she's dizzy, she's pregnant. (Wow. That was quick.) And I don't even want to fathom the fact that the man they "raped" is the baby's father. Are you effin' kidding me?!?
Most of these films like to point the blame for juvenile delinquency back on the parents, but this one is downright scathing. In fact, I think they're a little too hard on Carl and Jane Parkins, who seem to be nice enough people. Is it their fault they gave birth to The Bad Seed?
The film "The Violent Years" is most famous for the notorious "man criminally attacked by women" scene. Despite the subject matter, it will make you laugh your butt off. As Paula gives the victim the once over, she looks to the left, she looks to the right, touches the back of her hair ever so gently, then starts to strip and slowly closes in on him — and all we're missing is a scene of a train going into a tunnel. Or a tunnel swallowing a train in this case. The "conventional circumstances" dialogue preceding it is also priceless. It also took me several viewings to realize that it was the guy who was screaming and not his girlfriend as she escaped down the road.
Screenshots:
Download: