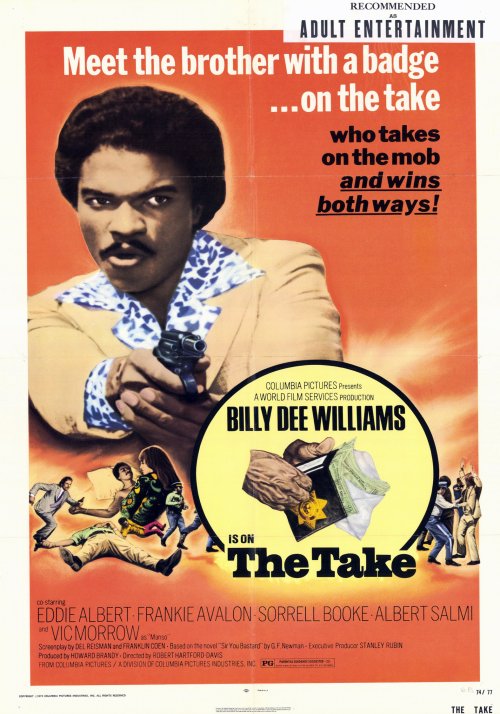 Year: 1974
Duration: 01:31:57
Directed by: Robert Hartford-Davis
Actors: Billy Dee Williams, Eddie Albert, Frankie Avalon, Sorrell Booke and Tracy Reed
Language: English
Country: UK
Also known as: Cash, Cash – Halt die Hand auf oder stirb, Doble juego, Ena katharma stin ypiresia tou nomou, La mordida
Description: 1.46GB XVID OF ROBERT HARTFORD-DAVIS' 1974 FILM, THE TAKE STARRING BILLY DEE WILLIAMS, EDDIE ALBERT, FRANKIE AVALON, SORRELL BOOKE, TRACY REED, ALBERT SALMI, VIC MORROW, JOHN DAVIS CHANDLER AND KATHLEEN HUGHES.
ALTHOUGHT IT MIGHT SEEM ON FIRST GLANCE TO BE A BLAXPLOITATION FILM, THE TAKE IS INSTEAD A STRAIGHT-AHEAD CRIME THRILLER THAT JUST HAPPENS TO STAR A BRUTHA. HE'S AN UNABASHEDLY CROOKED COP WHO ACCEPTS PAYOFFS FROM CRIMINALS EVEN AS HE ENDEAVORS TO BRING THEM DOWN. KINDA SOUNDS LIKE ANOTHER BLACK SCOUNDREL, EH LANDO?
AN EXCITING POTBOILER OF A FILM, BILLY DEE'S COOLNESS AND FAMOUS SAUVENESS ACTUALLY HURTS THE TENSION OF THE FILM. HE'S SO COOL UNDER PRESSURE THAT WE NEVER WORRY MUCH FOR HIS WELFARE. WHILE WATCHING, YOU KEEP THINKING, MAN, BILLY DEE'S GOT THIS SHIT…NO WORRIES.
ALBERT AND MORROW ARE GOOD IN UNDERWRITTEN ROLES AND IT'S GREAT TO SEE EX-HEARTTHROB, FRANKIE AVALON PLAYING A SMALL-TIME HOOD WHO'S INTERRUPTED AS HE'S BANGIN' 70's VOLUPTUOUS STARLET, KATHY BAUMANN, WHO TURNS A TOWEL INTO THE FILM'S SEXIEST COSTUME. THE TAKE IS FULL OF CHASE SCENES AND MACHO STAND-OFFS AND IT'S ENJOYABLE IN A 70's GRITTY, PULPY SORT OF WAY
Review: An experienced detective from San Francisco, Snead was assigned to a small police station in New Mexico. His new boss is counting on a new employee and hopes to understand, finally, with the local mafia. Arriving, Snead comes in contact with the Mafia, and at the same time successfully fights with some gangs …
Screenshots:
Download: