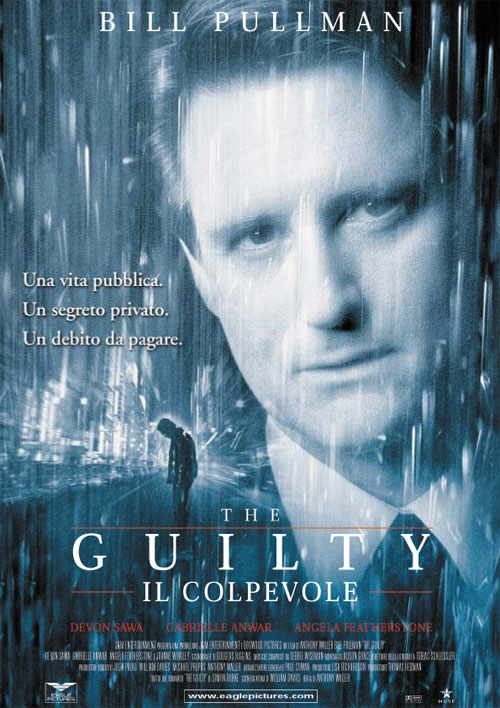 Year: 2000
Duration: 01:47:05
Directed by: Anthony Waller
Actors: Bill Pullman, Devon Sawa, Gabrielle Anwar
Language: English
Country: UK | USA | Canada
Also known as: A bűnös,Coupable ou non-coupable,Le coupable,O Culpado,Presunto homicida
Description: The young successful lawyer Callum Crane, yielding by charms of his new employee and the effects of alcohol, makes a terrible mistake …
Blaming the lawyer of rape, a young woman begins to blackmail him by threatening to break his career and destroy family life. Driven to despair, Crane decided to take extreme measures – use the services of an killer.
But the further incredible chain of coincidences and shocking events could not even dream to Crane in a nightmare!
Review: Oh, this trinity / lust / blackmail / murder, she haunts many people in this life, but the Hollywood writers are on the alert. More than once we have seen similar patterns, where the plot was just a trinity, albeit in a different order. That's "Guilty" is no exception.
It is reasonable to think, and that there may be new? The answer – nothing. But this is not science fiction, where the writers have infinite space for imagination. "Guilty," we can also provide all the standard components of the genre known at a decent level.
In the center of the screen stories this time the fate of the conceited lawyer who by his own stupidity (ie intoxicated) rapes his secretary, and though he regrets and repents, but the work is more important to him honor. And when he raped the girl threatens to expose the lawyer (who had already become a federal judge) finds nothing better to do than to offer a stranger to kill her for a large sum of money. But this stranger turns out to be his illegitimate son, who came to my father to see it for the first time. And you will realize that this is just the beginning writers' fateful coincidences and twists that await you in this picture.
Still, this film should primarily involve the cast, and it was his male part. The main role played infamous Bill Pullman (Serpent and the Rainbow and Brokedown Palace). This was not the first actor to play in films of this genre, same difference is his character. Callum Crane – the villain, the hero of Pullman is aware of the responsibility of his decisions and his tormented conscience, but do it with you can not do anything. Bill did a great job, passing the nature of his character nor shouts and a riot of different on-screen, but the expression of the eyes and a barely perceptible nervous behavior in the frame. But it is not only interesting for Bill Pullman in "guilty." Here we can see much more of a rare guest Screen – Devon Sava. This guy is famous for playing the role of Alex Browning is not ignorant of the mystical film, and now tried to stand in another line. And I must say – it turned out. His Nathan Corrigan, of course, paid less attention to writers', but Devon was able to embody the image of a high standard. Other actors too bad, but someone will not allocate a specific, they are managed, but only at a decent level.
In addition to the cast and a decent story "Guilty" has at its disposal Solid soundtrack.
Bottom line: "Guilty" – good movie that will be of interest primarily to fans of the genre thriller, not the usual "passer". But if you're the first, then have a look at this picture.
Screenshots:
Download: