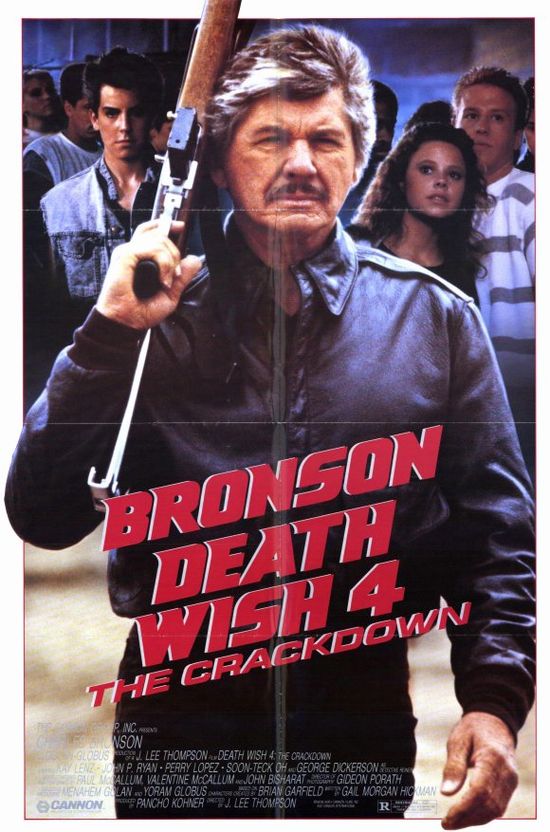 Year: 1987
Duration: 01:39:35
Directed by: J. Lee Thompson
Actors: Charles Bronson, Kay Lenz, John P. Ryan
Language: English | English Subtitles

Country: USA
Also known as: El regreso del justiciero, Bosszúvágy 4: Véres leszámolás, Das weisse im Auge – Death Wish 4, Death Wish 4 – Das Weiße im Auge, Desejo de Matar 4 – Operação Crackdown, El regreso del justiciero (Vengador anónimo 4), El vengador anónimo 4, En mand ser rødt 4 – hævnen, Il giustiziere della notte 4, Kokain ne oprosca, Le justicier braque les dealers, O Exterminador da Noite, To makeleio, Väkivallan vihollinen 4, Yo soy la justicia II, Zyczenie smierci 4
Description: From a strong dose of drugs died friend's daughter of  architect Paul Kersey. Trying to find the main suppliers of drugs, he kills a small cocaine trader. Home waiting for him a note with the text: "I know you did it," – and an offer to meet. At the address hero meets an old man, whose daughter also died from drugs and who also wants to take revenge on the Mafia.
He supplies Paul with information and weapons. After the destruction of two gangs of drug traffickers Paul hears that his "benefactor" – grief-stricken widower and father – in fact the largest gate in the drug mafia, Kersey arms deal with his competitors …
Review: As the third part of the famous revenge drama Death Wish – the franchise was in ashes Pounded by film critics, failing to score in the ill-fated site rottentomatoes.com even ten per cent of accidents, to develop further the idea of ​​punishing crime Kirsty Paul decided to entrust an entirely other people who did not have any relation with the first two paintings. Prior to that permanent director Michael Winner has been sent far away, and in its place is taken very old friend Bronson – Britain's J. Lee Thompson, who had managed to orchestrate at least five bands with Charles in the title role, it is noteworthy that after the this film will not burst their friendship and together they will be given us a few more watchable boevichkov.
What is the "Death Wish" for the number 4, you ask? And I answer, all the same thing repeating the previous three movies: the hero again Bronson bandits kill a loved one (I wonder, can actually be a problem in the Kersti that is subject to some unseen fate, brutally killing all of his friends and loved ones?) once again about a family man who does not believe in violence is taken for the revolver, again all rascals and rogues get fully deserved.
"So in fact, it all was!" – Pick and throw you to the movie and find yourself absolutely right. But what, then, is so good fourth film that I put it a higher rating than a sequel and trikvelu? And I answer, rather than frame sequel, and almost deranged trikvela, the fourth film with the audience enters a few more honest. First, the plot in the film Bronson now is not against gang-bespredelschik Gopnik, but against organized the Italian Mafia. Secondly, there will be quite a few unexpected plot twists, which lacked the previous one, totally stupid part. Third: the final denouement, though, and will be quite traditional, on previous tapes, but, nevertheless, show us something that we have not seen before.
As for the action-component, there still is a minus. Still, it is clear that the best years of once-talented director spectacular scenes, Thompson is already far behind. He lost his grip, shootings and car chases put boring and uninventive, and besides, even just disgusting each mounted. Installation is slow, sometimes clumsy and inept, which is why there is not dramatic in those moments when the viewer has to be glued to the screen action. But really with another, more young and energetic director would have looked much better.
A bit and he did not like the visuals. Once the film looks absolutely nothing. No dark gray depresnyaka original tape, no bright and variegated color set of two sequels. At some point you even willy-nilly, think that the film for television. This, however, is explainable by the fact that after the commercial failure of the third film, the money was given to this sequel is less and so much carousing authors with good intentions failed. However, it is worth to pay tribute to J. Lee Thompson, even as an "old horse", he "did not spoil the furrow," and made a worthy product of the viewer's attention.
In the end, "Death Wish 4: The Crackdown" is from a more than worthy conclusion stories of righteous avenger Paul Kirsty. Released after seven years of television pyatikvel – that's quite some sensuality and mockery.
Screenshots:
Download:
Death Wish 4: The Crackdown 1987