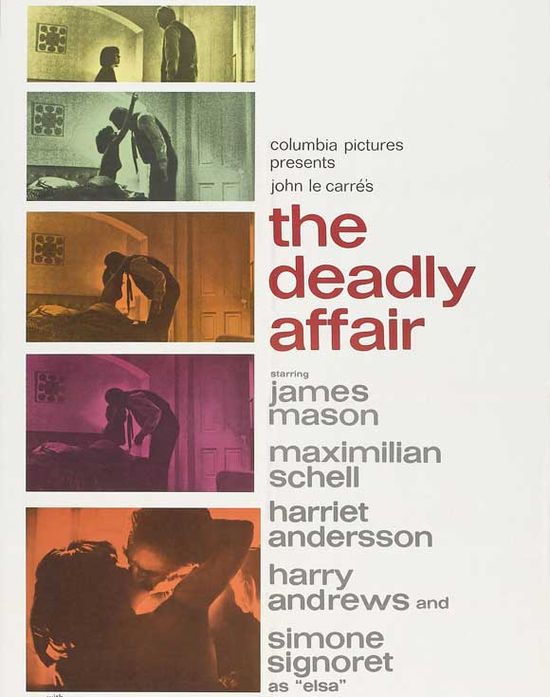 Year: 1966
Duration: 01:42:31
Directed by: Sidney Lumet
Actors: James Mason, Simone Signoret, Maximilian Schell, Harriet Andersson and Lynn Redgrave
Language: English
Country: UK
Also known as: Anruf für einen Toten, Casus Kim, Chamada para um Morto, Chiamata per il morto, Duas Plateias para a Morte, I kataskopos tou Londinou, Llamada para un muerto, -15 vraagt om bescherming, M.15 demande protection

Description: SIDNEY LUMET'S 1966 SPY THRILLER, THE DEADLY AFFAIR STARRING JAMES MASON, SIMONE SIGNORET, MAXIMILIAN SCHELL, HARRIET ANDERSSON, HARRY ANDREWS, ROY KINNEAR, LYNN REDGRAVE AND UNCREDITED ROLES FROM DAVID WARNER AND TIMOTHY WEST.
BASED ON JOHN LE CARRE'S FIRST NOVEL CALL FOR THE DEAD, THE BOOK'S MAIN CHARACTER, GEORGE SMILEY HAS BEEN RENAMED CHARLES DOBBS FOR THE FILM ADAPTATION. A GREAT SPY FILM RELEASED ONE YEAR AFTER LE CARRE'S FIRST NOVEL-TURNED-FILM WAS RELEASED (The Spy Who Came in From the Cold) AND AN EARLY DIRECTORIAL EFFORT FROM THE GREAT LUMET WHO'S FIRST HANDLING OF A SPY GENRE FILM IS BRILLIANT. INCLUDING A SOUNDTRACK COMPOSED BY QUINCY JONES AND FEATURING A NEWLY-INVENTED PROCESS OF PRE-EXPOSING COLOR FILM TO CONTROL LIGHT AND MUTE COLOUR (LABELLED COLOURLESS COLOUR BY LUMET), THE DEADLY AFFAIR IS AN UNDERSTATED GEM OF A FILM.
QUIET, BROODING WITH LAYERS OF INTRICATE SUBTEXT AND MOTIVES, THE DEADLY AFFAIR ISN'T JAMES BOND BUT IN-LINE WITH ALL OF LE CARRE'S WORK AS A SMOLDERING, FLY-ON-THE-WALL GLIMPSE INTO THE WORLD OF ESPIONAGE, OR SO WE'RE TOLD.
Review: Intelligence agent forced to conduct an investigation into the suicide of one person – an employee of the Ministry of Foreign Affairs . The fact that the day before his suicide came an anonymous letter that he is a spy ( or rather , the communist spy ) . Step by step , the hero of this thing unravels . Especially because the film is based on the novel by John le Carre
On the background of the detective story , we witness the personal drama . As is usually the case with le Carre , again we meet with a wife who changes her husband forced reconciled with this ..
By the way, it seems to me that the role of his wife Delphine Seyrig exclusively for .
Directed by Sidney Lumet film withstands stylized true British atmosphere. Perhaps that is what the movie was the "technical training " Lumet , recognized before the film "Murder on the Orient Express ."
About the movie itself not much to say – stylized detective with proper directing and very good actor . James Mason , as usual, completely immersed in the role.
Very organic look in the film Makisimllian Shell and Simone Signoret .
The film is characterized by a remarkable dialogue due to interesting literary prototype.
The result: a stylish aged British detective novel by John Le Carre .
Screenshots:
Download: