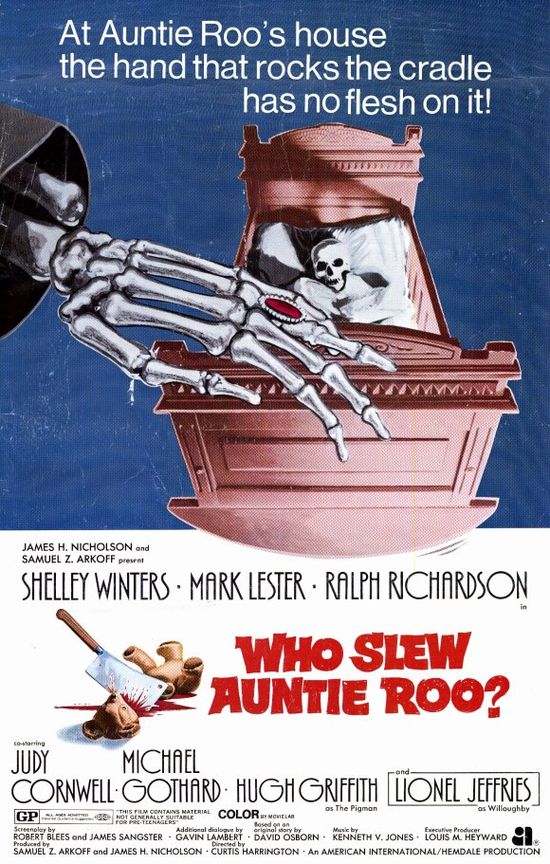 Year: 1972
Duration: 1:31:46
Directed by: Curtis Harrington
Actors: Shelley Winters, Mark Lester, Chloe Franks, Ralph Richardson, Hugh Griffith 
Language: 
Country: 
Also known as: Gingerbread House, Wer hat Tante Ruth angezündet, Mais qui a tué tante Roo?, Chi giace nella culla di zia Ruth?, Fábula Macabra, Kanli balta – Iki kardes
Description: Mrs. Forrest, whom everyone calls aunt Roo, loves children and every Christmas gives orphans children a wonderful holiday in her mansion. She's a widow and rumor says that many years ago something happened to her young daughter.
Once on the Christmas, orphans among children Auntie Roo sees the girl, like two peas similar to her lost child. Her name is Catherine, and dead daughter's name was also Catherine, she's about the same age and she loved Teddy bear of the deceased daughter. Forrest decides to keep the girl with her and that decision has infuriated the older brother of Catherine. He tells his sister that Auntie Roo is a witch and is going to roast them as in the fairy tale "Hansel and Gretel", so they should be the first to kill her and take the witch treasure.

Screenshots
Download