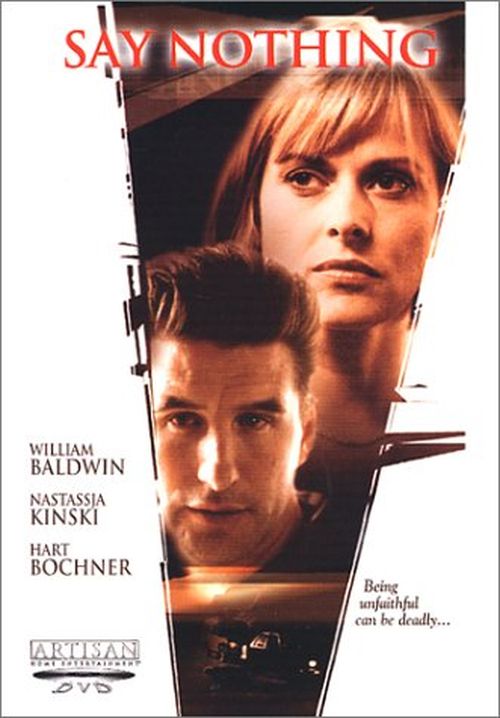 Year: 2001

Duration: 01:28:15
Directed by: Allan Moyle
Actors: Nastassja Kinski, Hart Bochner, William Baldwin
Language: English | Spanish

Country: Canada | USA

Also known as: Armadilhas da Sedução, Armadilhas do Destino, Le piège d'une liaison, Jede Affäre hat ihren Preis, No digas nada, Vaiettu petos, Le piège d'une liaison, A titok fogságában, Não Digas Nada!, Lethal Attraction
Description: It seems that the couple Grace and Matt Nidam has everything for a happy family – a big house in an affluent area, prestigious cars and beautiful daughter Casey. And so a holiday romance with a charming businessman Julian Banks leaves in the soul Grace guilt.
She vows to dedicate himself all the time and forget Julian family. But Julian is not going to leave her alone. Grace for the possession of it ready to stake everything – even the life of her husband and daughter …
Review: At the beginning of the movie "Say Nothing" heroine Natalia Kinski Grace rides in the car to rhythmic music by the beautiful stately homes , buried in greenery and flowers and stops at the same house – his – but inside waits not so perfect life on the outside , namely : "frozen" husband ( it can not be a long time to find the right fit for his fine work and organization of the soul because proudly drink alone ) , as well as void on the walls and in the rooms of items sold and exported …
By construction, the initial frame is already possible to draw conclusions about the nature and essence of the characters. Nastasya draws her character initially timid , docile enough woman who can not even put a number of questions rib , and her husband Matt ( Hart Bokner ) appears Eater his social downfall. And if the change , the evolution of Grace during the development of the plot is obvious (think slap in the restaurant and the final trip by car ), then Matt entire movie remains the same and , as a result of this character is not decorated history.
Another thing – William Baldwin ( Julian Banks ) . He , of course, do not shine in acting here , but it was livelier Boknera Hart . Julian entire movie is very ironic, self-confident man, so unmask sort of played out at the end of the streamlined perfectly.
As for the plot , then, since I have not read the annotations , the holiday romance in the first half hour created intrigue – what will happen next , whether it will develop into a larger , Natalia was such a gentle, feminine , charming . But the phrase , after all , "I know you love your husband" seemed a bit odd and out of place (perhaps behave and loving their husbands women in the resorts ) . Then occurs again in the life of Julian Grace my audience interest also rose – such a coincidence, as Grace is now behave . However , already during the machinations of Julian , I started a little bored , and only the final outcome of a showdown at all was clear.
Total . Great performance as Nastassja Kinski, William Baldwin decent , exciting nature, touching flowered wallpaper in the bedroom Grace and Matt storyline until the middle of the film – that's a plus . But for no Hart Boknera uninteresting intrigue Julian predictable finale and platitudes in dialogues uttered heroes quite seriously in inappropriate situations for this
Screenshots:
Download: