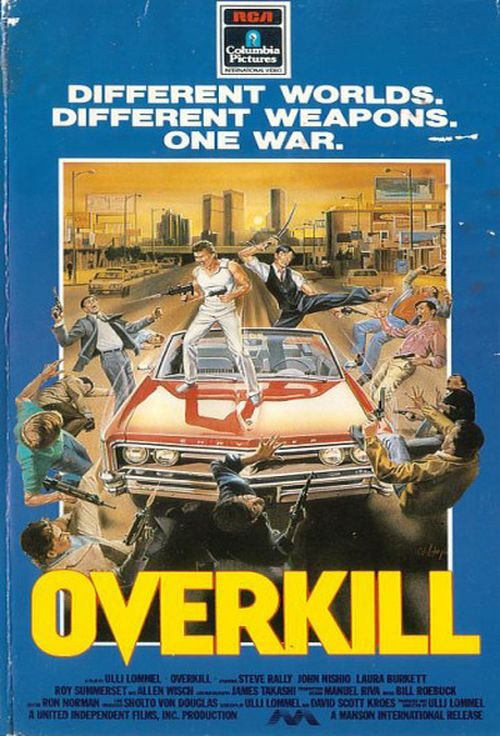 Year: 1987
Duration: 01:21:15
Directed by: Ulli Lommel
Actors: Steve Rally, John Nishio, Laura Burkett
Language: English
Country: USA
Also known as: Los Angeles Vice, Overkill – Inferno der Angst
Description of Overkill: Going on vacation in a tropical resort, Jack Hazard has already began to forget the busy life of an officer in New – York City Department for the fight against drugs, when his help is drawn by Gary Steiner, a hacker, fleeing from his boss, Lloyd Wheeler, leader of a dangerous international criminal organization "white-collar workers. "Although saving Steiner's life  was the last thing Jack needed, but he still intervenes, and is captured into the flow of events. Filmed by director of Dungeon Girl and Bloodsuckers

Review of Overkill: This action is very powerful whirled on TV in the second half of the nineties dashing. I remember I saw it on a cassette with a terrible quality. The plot was very similar to the "Hard Target" and "Piranha", I mean hunting rights. The main role of the famous brother of the great and terrible Chuck Norris. He played the next super-cop who almost single-handedly, like Rambo, iznichtozhaet all the villains by all available means and methods, and the main bugger gets a kick in the ass from the indigenous inhabitants of the jungle. Very good staging fights in this film is present, especially in the final scene of the knife, even though this piece is similar to the final fight Steven Seagal and Tommy Lee Jones 'Under Siege'.
Comedic elements of this picture is of a minor character Steiner, that the whole movie is in the face of something not agree all the time and wants to have suffered physical overexertion. His chief sin is that he skomunizdil via computer a few million dollars from the main villain, and then transferred them to. .. Fund for Saving the whales. Naturally such arrogance can not be penalized, but suffer because of this we have Aaron Norris. However, his athletic achievements help residents jungle eagle soaring in the sky and even agentessa CIA.
I personally like the idea at the beginning of the film, when our brave police utterly furious from his profession, and threw out the window colleague for that as punishment was sent on leave by the new test. Do not go, people to rest in the jungle!
Screenshots:
Download: