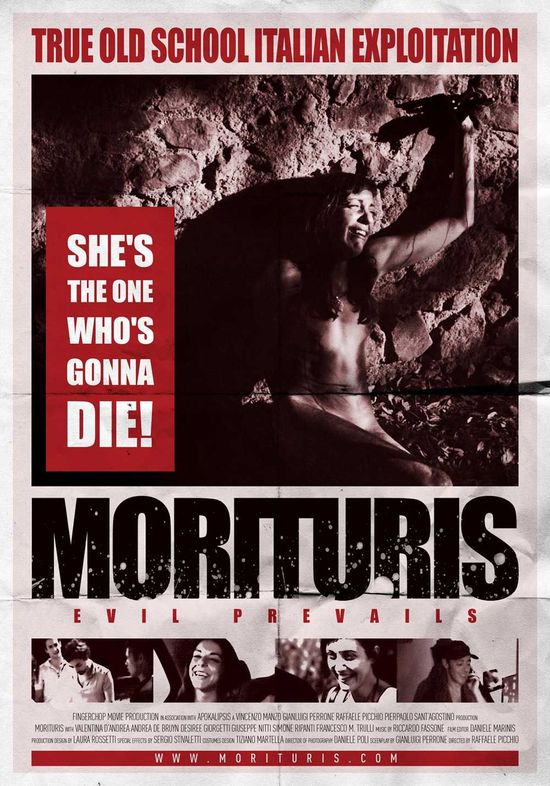 Year: 2011

Duration: 01:22:09
Directed by: Raffaele Picchio
Actors: Valentina D'Andrea, Andrea De Bruyn, Désirée Giorgetti
Language: Italian

Country: Italy

Also known as: Debiruzu reipu; Morituris: Kuoleman gladiaattorit; Morituris: Legions of the Dead
Description: Among the great variety of extreme cinema film now «Morituris» 2011 is perhaps one of the least known among fans of the horror genre. Forbidden in his homeland, in Italy, but has been successfully passed on many important festivals dedicated to horror, «Morituris» is a nice representative of the classic Italian horror operational, with the picture tends to hold positions in several genres, skillfully combining elements from underground cinema It is present in binding giperrealistichnymi scenes of violence and perversion, and very standard horror film in the style of "Wrong Turn" and "The Texas Chainsaw Massacre." What is surprising, partly plot is based on real events that took place in Italy, in the area of ​​Circeo in 1975, in which the appalling murder of girls.
However, «Morituris» – this is a very bloody and unpleasant story about the young boy and girl unwittingly awakened during forest walks these demons damned gladiator Spartacus, who staged a fast couple of our journey to Hell, because the real context in a picture where only shocking scenes in nature and cause the viewer were to become loathing and disgust their monstrous obsession. Intriguing tie belt soon turns into a very real torture porn, to scenes of violence and perversion operator Daniel Pauly makes of strongest emphasis, why it is clear that the debutant director Raffaele Picchio decided to go through the smaller creative effort by lifting a picture which would be talking all outside Italy.
The performances in the film as a whole is quite good and quite successfully fit into the framework of the genre, given that since the 15 th minute, the film turns into a bloody orgy of deviant, but because acting is kept to a minimum and is convincing moans, cries, and so n .
Soundtrack composer Riccardo Fassone creates a picture of the effect of extreme terror, driving the audience into a state of trance, not that, not that depressed.
Definitely all the fans of horror movies and trash I recommend this kinorabotu will not, given that there is no formal film dubbing in Russian, but if you're looking for something shocking, and beyond, «Morituris» definitely come to your liking.
Screenshots:
Download: