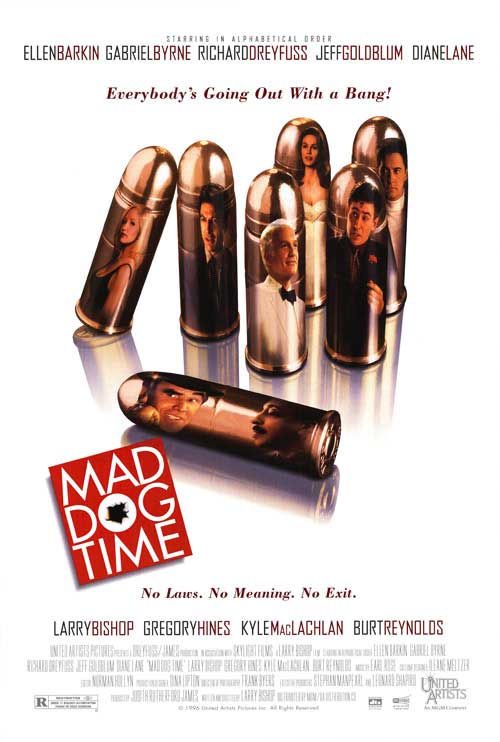 Year: 1996
Duration: 01:32:49
Directed by: Larry Bishop

Actors: Ellen Barkin, Gabriel Byrne , Richard Dreyfuss

Language: English
Country: USA
Also known as: em Matar-te ,   La gâchette en tête, Bullet Point, Eine Sippschaft zum Ermorden, Encantado de matarte, Encantat de matar-te ,Mad Dogs, Trigger Happy, To xekatharisma, Fegyvermánia , Il tempo dei cani pazzi, Matar-te É Um Prazer, Povratnik u zločin, Kuduz bakisi
Description:The owner of a luxury restaurant Vic is actually the leader of the gangland «Mad dog». In competition with other major mafia MICS Hollyday he tries to establish the full control of the club and gambling business. To achieve this goal, used all means: «girls night» to «Russian roulette».
Review: Let me begin by saying…this movie…is bizarre. It makes absolutely no logical sense. True, the story (when summarized) sounds pretty formulaic, but this is far from the case. To put my bafflement in perspective, I was fairly satisfied with the story structure and weird dialogue in movies like Mulhohlland Drive, Eraserhead, El Topo, I Will Walk Like A Crazy Horse, Buffet Froid, Week End, etc. This movie just left me nonplussed. It didn't help that I first watched it purely on accident while tripping on acid. But that's beside the point.
It's written and directed by Larry Bishop (son of Joey Bishop & the guy who played the scumbag strip-joint owner in Kill Bill vol. 2). It features a top-shelf cast (Richard Dreyfuss? check. Ellen Barkin? check. Jeff Goldblum? check. Billy Idol? che…wait, what?) and a great assortment of lower-shelf character actors. Not to mention all the baffling cameos (even Larry's dad makes an appearance). As far as I know, this was direct-to-cable, as I only heard or saw of it once, on television. I'm frankly amazed it's been released on DVD. It's choc full o' rambling non-sequitirs, gangster cliches and confusing, willfully obscure characterization. But don't pay any attention to me. Lynch rip-off? American post-post-modern nouvelle vague? Or just hipster bullpucky. You make the call. Enjoy!
Screenshots:
Download: