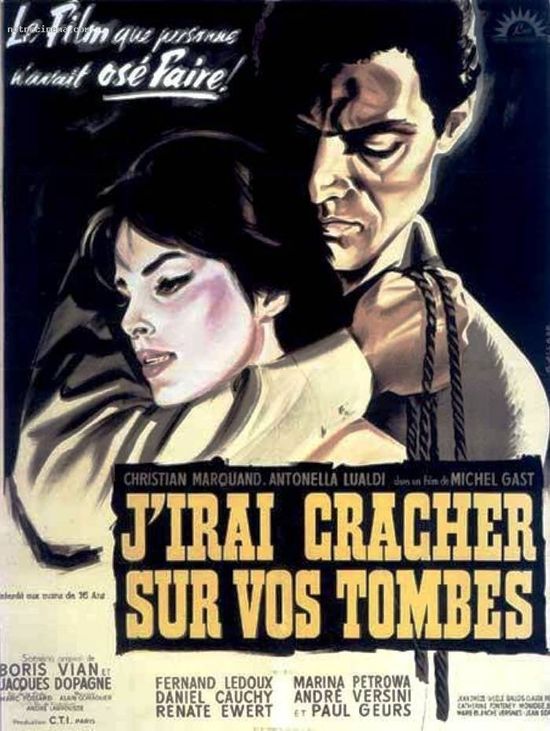 Year: 1959
Duration: 01:43:20
Directed by: Michel Gast
Actors: Christian Marquand, Claude Berri, Christian Boisseau, Daniel Cauchy
Language: French
Country: France
Also known as: J'irai cracher sur vos tombes, Il colore della pelle, Auf euren Hochmut werde ich spucken
Description: This is a story of revenge brutal "white negro" (that is, half-breed with distinct features a white man), Joe Grant, a lynching and murder of his younger brother with a dark skin.
Review: It's impossible not to compare it with the creation of literature. Sharply discordant with the famed author's dreamy "Peña days", the story introduces us to the main character in his own words, he initially very calm and willing to accept whatever is available, even a matter of great sympathy with their fond memories and playing blues, then carefully stored drawn spark anger she burst out through irony, recklessness and indifference, the game people (and people), and then all the impulses of revenge produce a huge explosion, because the end of crumpled (and this is by no means a bad thing), fast, no acute sting, but rather leaving in a minute and kind of numb stupefaction.
The film I Spit on Your Grave is – atmospheric beginning (though somewhat too straight) and absolute nonsense further. Hero Screen impossible to understand – not in terms of behavior, it is simply bad embodied. Girls generally disgusting – even if they will not be such as in the book, so maybe it should be – but – limit affectedness, smearing, a plane.
Screenshots:
Download: