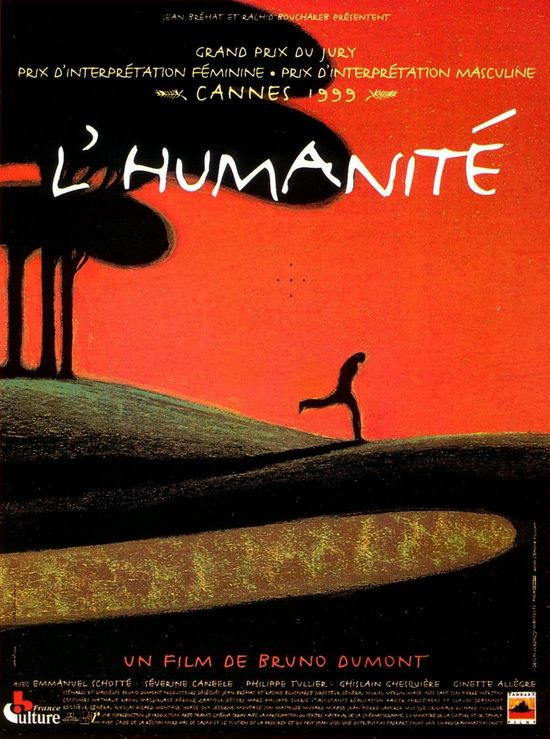 Year: 1999
Duration: 02:21:46
Directed by: Bruno Dumont
Actors: Emmanuel Schotté, Séverine Caneele, Philippe Tullier
Language: French | English Subtitles

Country: France

Also known as:  A Humanidade, Anthropini dokimasia, Anthropotita, Emberiség, Humanität, Humanité, Humanity, Inhimillisyys, Insanlik, L'umanità, La humanidad, Ludzkosc
Description:In the small provincial French town, where nothing happens, committed shaking all the brutal rape and murder of 11-year-old girl. To investigate this terrible accident starts police Pharaoh De winter, the man largely strange and detached from everything vain.
The second directorial work of the Frenchman Bruno Dumont called «Humanity», which became one of the main winners of the Cannes film festival 1995, formally at least, and rests on a purely genre of a detective story line, but is closer in its format to a dramatic existentialism, because loud cash failure of the film not only in the USA but at home it seems rather obvious. The film hero of category unnecessary, that almost on Dostoevsky confess the divine constants, tries to confess humanity against the background of domestic landscape and tranquility of nature, dispassionately looking on essentially devoid of meaning Genesis inhabitants of the city. Rhythm of the film is slow and even beautiful, static camera work Willow Sara occasionally interrupted explicit erotic scenes shot in absolutely asexual manner, why it is very often it seems that Bruno Dumont really don't like neither one of his heroes, except for the Pharaoh.
In the film "L'Humanite" starring busy with non-professional actors, from which, however, Dumont has managed to achieve dramatic and realistic game. Especially I want to note Emmanuel Shotte, who performed the role of Pharaoh, and Severin Caneel played Dominoes.
Soundtrack as such in the film minimized, enhancing the effect of realism of what is happening on the screen, because occasionally getting in the structure of paintings melancholic motif from the composer Richard sounds more like a background.
To all fans of European cinema I recommend this quite substantial for the perception of the picture.
Screenshots:
Download: