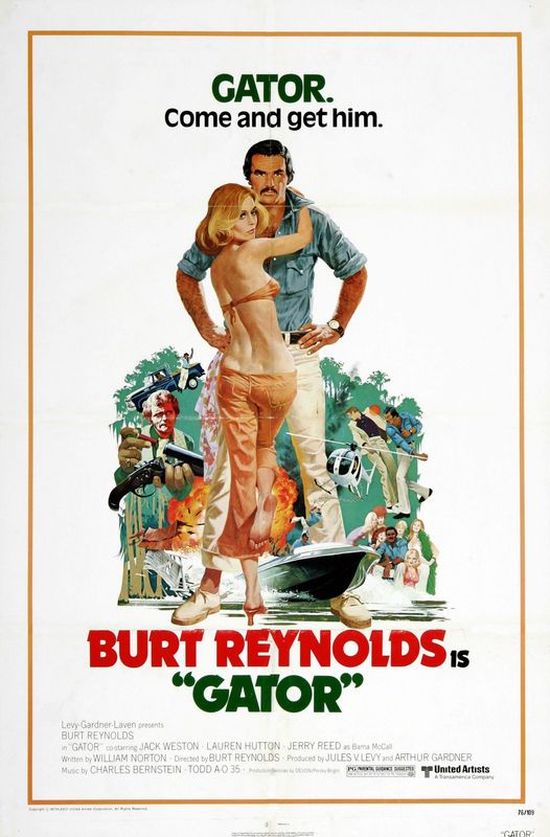 Year: 1976
Duration: 01:51:34
Directed by: Burt Reynolds
Actors: Burt Reynolds, Jack Weston, Lauren Hutton
Language: English
Country: USA
Also known as: Aligator, Gator el confidente, Mein Name ist Gator
Description:
Burt Reynolds (White Lightning and Deliverance) is back (in his directorial debut)as good ol' boy Gator McKlusky, a former moonshiner who is released from jail (again) to get the goods on a skeevy Southern fried racketeer (Jerry Reed) with a penchant for underage girls in this sequel to White Lightning
After his release from prison, "Gator" McCluskey tries to start a new life away from the city. But federal agents violate his rest and try to get them to help in the operation against a corrupt politician, a childhood friend of the Alligator. At first he resists this, but gradually learning that an old friend involved in extortion, prostitution, and even organizing murders, Alligator decides to help the authorities.
Slightly surprised as rated movie and not surprised at the lack of reviews on it – because to criticize something is nothing special : so typical American consumer goods. Reynolds directed the movie for yourself , pretty boy who conquers his male beauty with the charm of a provincial television and simultaneously punishing local bad guys .
Attention of those who are tired of the chase on vehicles provided chase motorboats. The main villain with whiskers , are not devoid of charm criminal , he has a pair of improvised with unusual abilities , as in the series of Bond. Another of the advantages of light weight " nedoheppi -end" that the writers came up , apparently in order not to get bogged down in fabulousness .
However, despite the nearly two hours of timekeeping movie quite rapidly and for a single viewing will fit perfectly , there's a lot of denim clothing and huge American cars – dreadnoughts !
Screenshots:
Download: