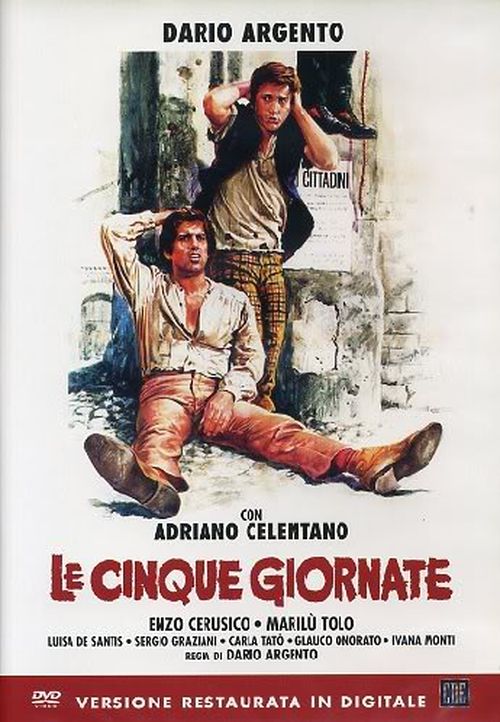 Year: 1973
Duration: 01:56:06
Directed by: Dario Argento
Actors: Adriano Celentano, Enzo Cerusico, Marilù Tolo
Language: Italian | English Subtitles

Country: Italy

Also known as: Cinq jours à Milan, Cinq jours de révolution, Die Halunken, O lopodytis, The Five Days
Description:Hero of Celentano sneak thief accidentally escapes from prison and gets covered in a national uprising, Milan and trying to adjust to the new situation. And in the city of revolutionaries kill the Austrians and the traitors (in their opinion), establish their hold and rules, and the number of politicians who know what to do for the benefit of the Motherland is enormous and varied. This situation is typical for all of the revolution and the French and the great October.
And Dario Argento (director of Trauma and Suspiria), using the realities of Italy 19th century makes fun of the political situation of the end of 60s – beginning of 70s of the 20th century.
I especially liked the scene from "Five Days in Milan" with the death of the protagonist, around which gathered representatives of various parties and await his last words. Finally it says and giveth up the Ghost. Immediately arise between the parties fierce skirmish and interpretation of his words in favor of each of the parties. Supposedly he praised the Pope and the king called to democracy aspired. In the heat of the landfill corpse hero useless falls to the floor and everyone scatters. The result was that he said something like :«fuck you all …"
Very sober and an ironic glance at every revolution. Policy on rallies pronounce Patriotic speeches, and at banquets cynical division of power. Rogues and thieves posing as revolutionaries and surreptitiously stole that is bad. Plain people exposes itself to the bullet. All as always. What has been done is done. Nothing new under the sun.
Celentano, the film is not like yourself. What he stalled, brooding. But this is not even bad. Just before viewing the need to focus not on the eccentric Comedy and political satire.
This historical film will not name. Understand that the events are impossible to study the history of Italy it is not necessary. This pamphlet on Italian politics of the early 70s. Changes in the government, the left radical groups (Red brigades), right-wing nationalists and etc., etc.
Such allegedly historical films in the 60s-70s in Europe was shot a lot. I'll name «Viva Maria!» Director Louis Malya.
First I put the assessment of 7, but the film remains in my memory, I periodically remember, think about it, ponder and after while he pleases me much more than immediately after viewing, and this means that it is not as bad. Raise the grade by up to 8. Or maybe next time put, and 9.
Screenshots:
Download: