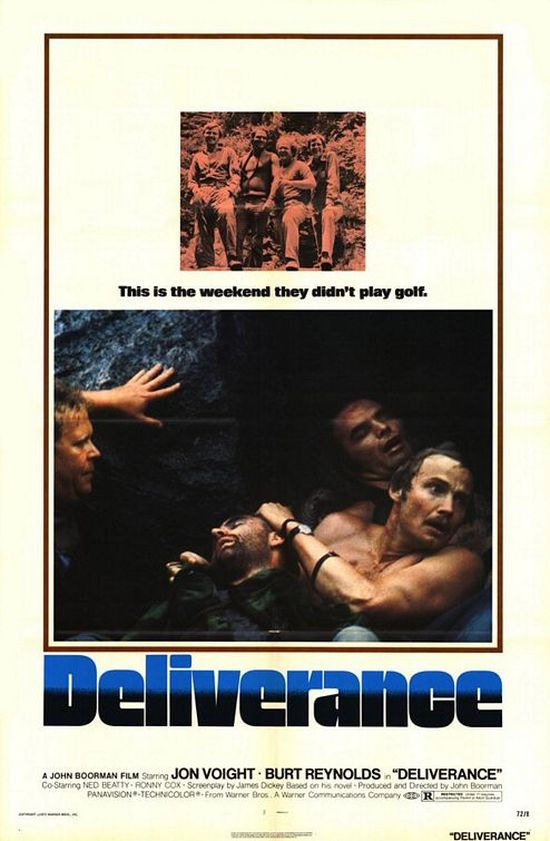 Year: 1972
Duration: 01:49:06
Directed by: John Boorman
Actors: Jon Voight, Burt Reynolds, Ned Beatty
Language: English
Country: USA
Also known as: Amarga pesadilla, Beim Sterben ist jeder der Erste, Picnic med døden
Description: Four make the journey into a wilderness and desert area in Appalachians. They come down the river on two boats. Their intention was to just relax, unwind and see beautiful places … They do not know what to get ambushed by ignorant local mountaineers, thugs and sadists. Villains 'happy' to tourists from the city, they can not wait to have fun in their own way with the newcomers. For four travelers comes the decisive moment …
Review: Start of the movie of John Boorman Deliverance promises something for kshtalt highly artistic version of "Texas Chainsaw Massacre" or "Wrong Turn", but no horror or thriller the usual scenario "hunt for man , "which is expected to slightly downstream belt – we are not going to show.
«Deliverance» – really has very tense moments, sometimes – scary, very professionally conditioned emotional scenes, worked out the characters and supporting characters, beautiful shots of nature.
History is, in fact, about the clash of urban man, the environment and the population "one-story of America," where winning is probably only one nature. «Deliverance» something like a very strong film Sam Peckinpah's "Straw Dogs" which added a "special move" in the style of "Aguirre, the Wrath of God" by Werner Herzog.
Screenshots:
Download: