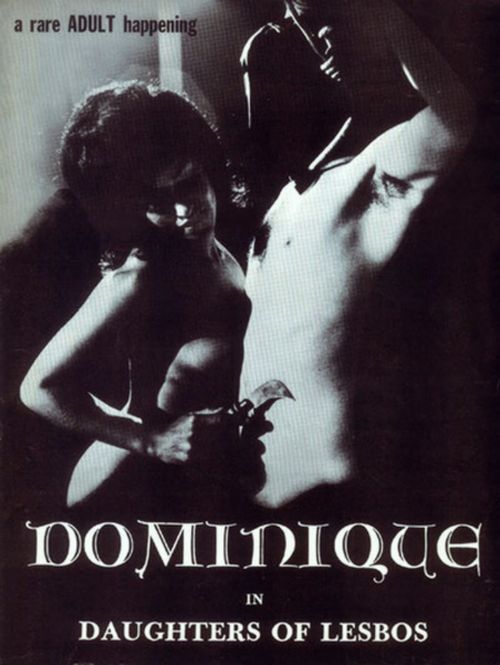 Year: 1968
Duration: 01:01:38
Directed by: Peter Woodcock
Actors: Geri Miller, Linda Boyce, Jo Sweet, Jackie Richards
Language: English
Country: USA
Also known as: Dominique in Daughters of Lesbos,
Description: Dominique in DAUGHTERS OF LESBOS: this is one sleazy picture, one that could have possibly been directed by Michael Findlay or John Amero under the pseudonym "Peter Woodcock." From the opening scene, fans of seedy NYC cinema will be in heaven! Three of my favorite 60s sexploitation actresses, Jackie Richards (ALL MY MEN, INDECENT DESIRES, SHE CAME ON THE BUS), Linda Boyce (CURSE OF HER FLESH, ELECTRONIC LOVER, OLGA'S DANCE HALL GIRLS), Geri Miller (MEETING ON 69TH STREET, FLESH, Trash), and Helga, a virginal blonde, make up the "Daughters of Lesbos," a society of snotty lesbian female supremacists who wine, dine, and discuss politics and life at weekly meetings before getting down to some nasty lesbo lovin.' Each woman tells her story of how she became a carpetsweeper: after being stood up at a nightclub, Boyce is date raped by an eager pervert, vowing revenge against all men; Helga practices self-love with a vibrator before experiencing her lesbian fantasies with fellow camp counselor Monika (all-time personal favorite Uta Erickson, once again uncredited!!); "female stud" Richards picks up a hippie girl hitchhiking and has her way with her; and Miller shares a bath with a girlfriend before being raped by a peeping tom who crawls through her window. The "Daughters of Lesbos" decide to avenge Miller's assault…by tying him up and castrating him (in a surprising instance of full frontal male nudity!)!!
Review: The film revolves around the meeting of a club whose members loathe men and consider the female of the species to be superior beings. It is also hinted that the meeting's purpose involves discipline of some kind, but this only comes into play at the very end. Instead, a series of vignettes illustrate key moments in the girls' past lives – a drug-induced date rape; the summer camp "initiation" of an erstwhile onanist; another initiation, this time of a hippie hitchhiker by a more aggressive dyke; and another serial masturbator who daydreams of a previous bathtub liaison, attracting the attention of a (male) voyeur.
Screenshots:
Download: