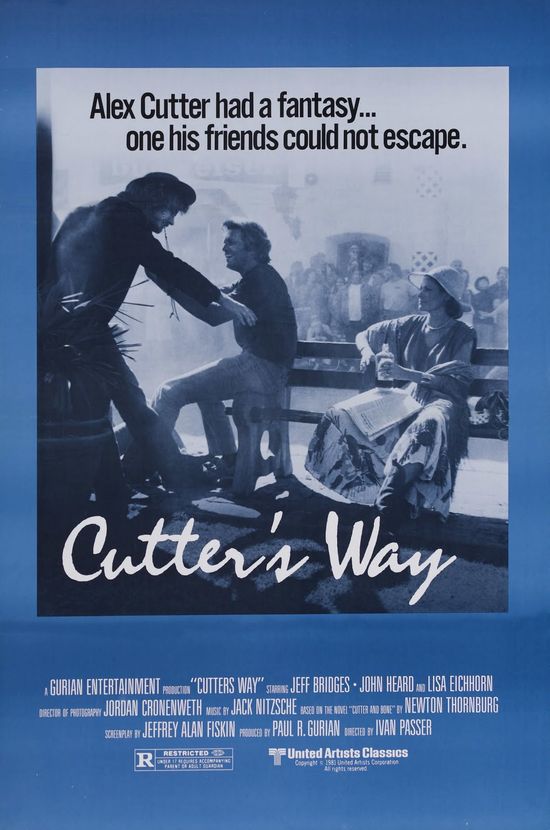 Year: 1981
Duration: 01:48:58
Directed by: Ivan Passer
Actors: Jeff Bridges, John Heard, Lisa Eichhorn
Language: English
Country: USA
Also known as: A la manera d'en Cutter, Alla maniera di Cutter, Cutter and Bone, Cutter's Way, El camino de Cutter, La blessure
Description:A Vietnam veteran (Jeff Bridges – Door in the Floor), a cripple cutter pissed off at the whole world. His friend gigolo bone night sees as a local oil tycoon hiding in the trash corpse of the girl. Cutter grabs his story: in the face of magnate he wants revenge on the entire society, which turned around from him.
Review: Filmed in 1981, the film entirely belongs to a bygone era of American cinema seventies with its sociality, the development of the characters, clever scripts and implicit faith in the presence of the ideals of the previous century. It was a great movie, possibly the best in that period in the world.
«Cutter's Way » – means the merits of the film, which has obvious charm of the great epoch. The film will not carry nor for the genre, nor to copyright – on the verge and created the best films of the American cinema of the seventies. The history of personal war veteran, his complex relationship with each other and wife balances simultaneously on the verge of film Noir. The movie somewhat tightened completely non dynamical, hardly even a simpleton.
Young skinny with great pressure bridges in atypical role, young John Hurd, who played in an expressive manner. Taking into account the plume film roles for each of them are very nice to look at these actors, great glory, sexy and organic. The last ten minutes of the film with buffonada during the rout in society and crazy Herd, riding a horse, visually magnificent, and only for them remove the stylus (and show) this film.
Screenshots:
Download: