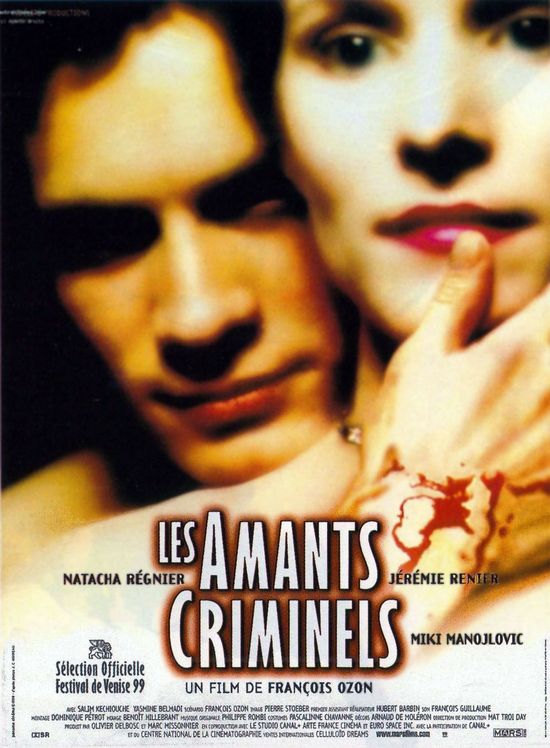 Year: 1999
Duration: 01:31:56
Directed by: François Ozon
Actors:  Natacha Régnier, Jérémie Renier, Predrag Manojlovic
Language: French (English subs)
Country: France
Also known as: Les amants criminels, , Los amantes criminales, Ein kriminelles Paar,  Amantes criminales, Satanikoi erastes, Bűnös szerelmesek, Amanti criminali, Zbrodniczy kochankowie, Криминальные любовники, Älskande på flykt
Description of Criminal Lovers movie:
In this bizarre, French, suspenseful murder story directed by François Ozon,  Alice  is a sexy high school student who is able to attract young men without difficulty. She persuades the gullible Luc, to murder the handsome Said, who wants to have sex with her, telling him that Said and three of his friends had  raped her.  The murder is fairly simple:  Luc stabs Said while Alice seduces him, but disposing of the body is more difficult.  To do so, they throw the body in the trunk of a car and drive to a forested area in the French countryside, where they bury it  in a shallow grave.
 After they bury the body, they get lost in the woods, going deeper and deeper into the forest until they come to a small house, which apparently has no one inside.  This changes when a strange man who lives in the house comes in armed with a gun and forces them  go into the  building's cellar, where they find that the man has dug up Said's body, which is lying there, missing a leg.  It turns out that the strange man is a cannibal, but has no intention of killing them immediately, instead making Luc have sex with him, while he keeps Alice locked in the cellar. The two must figure out how to escape or die.
Screenshots:
Download: