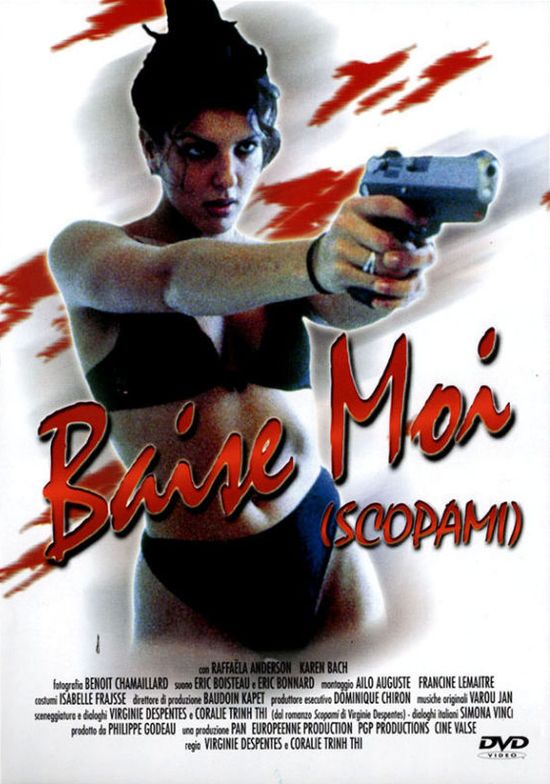 Year: 2000
Duration: 01:10:49
Directed by: Virginie Despentes, Coralie Trinh Thi
Actors: Raffaëla Anderson, Karen Lancaume, Céline Beugnot, Adama Niane, Christophe Claudy Landry
Language: French (English subtitles)
Country: France
Also known as: Rape Me, Fuck Me, Fick mich, Baise-moi – Fick mich!, Shag-Me
Description: Manu and Nadine were on the bottom of life, and not by hearsay know what is rape, prostitution and death of beloved ones. They are angry on the world and ready to take revenge for humiliation to anyone who gets on their way. To know the taste of unlimited freedom, they set off on a journey that is filled with sex, bloody murder and robberies.
Review: Sensational, scandalous and forbidden to be shown at home in France film with former porn queen Coralie Trinh Thi and prominent feminist, writer and screenwriter Depant Virginia.
Motion picture was filmed on the eponymous debut novel by Virginia Depant «Baise – Moi», has withdrawn in France in 1993 and immediately became popular. The novel caused a stir in the community and brought success to the author, in the short term which sold 40,000 copies.
The novel was written in the tradition of "high road", in the form of "erotic detective with murder, robbery, and sex scenes." As a result, critics have dubbed the film based on the novel as "erotic thriller." Film planned to put in Hollywood, with the participation of world stars like Julia Roberts and Cameron Diaz, but because of the abundance of erotic scenes, the idea was abandoned.
The entire plot of the movie 'Fuck me' consists of numerous scenes of brutal sexual violence. The film – a protest against the perception of women as sexual objects.
Screenshots:
Download: