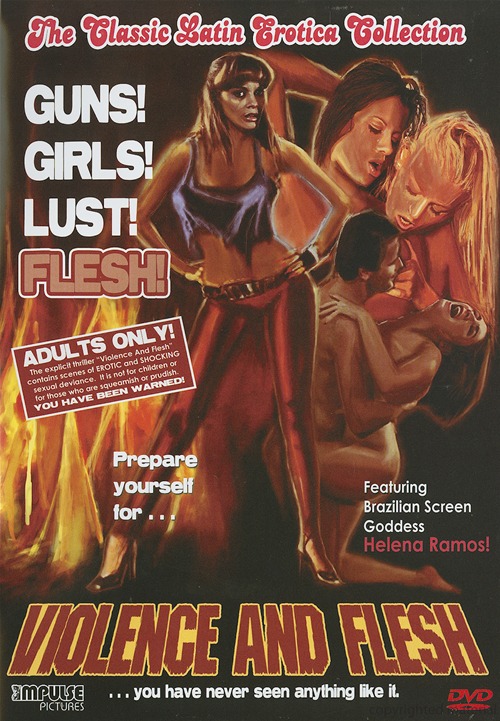 Year: 1981
Duration: 01:30:23
Directed by: Alfredo Sternheim
Actors: Hércules Barbosa, Luiz Carlos Braga and Claudio D'Oliani
Language: Portuguese (English subs)
Country: Brazil
Also known as: Violencia na Carne
Description: Three violent criminals make a break from prison and dig up some stolen cash. After setting their getaway car on fire they plunge into the jungle north of Rio, stumbling upon a private beach home owned by a young lesbiancouple. Enter the lovely Jesse (Helena Ramos) and her friend Daniela (Neide Ribeiro) who have aveled to the beach home to meet with their friends for a relaxing weekend in the sun. Little do they know what awaits them!
All hell breaks loose as the criminal invaders play twisted, perverse games of sex with a house full of innocent women. One by one the hapless ladies are subjected to sexual anarchy, forced to strip and engage in lesbian acts. Each woman must obey the thugs or face death! But these beautiful ladies have a plan of their own, and are about to strike back. Will they survive their descent into Violence And Flesh?
The cast feature some familiar faces like Helena Ramos (The Chick's Ability), Neide Ribeiro (Bare Behind Bars) and Nadia Destro (Bare Behind Bars). Ultimately Violence and Flesh's delirious dialog and ample amount of naked flesh more than make up for the mediocre acting.
Screenshots:
Download: