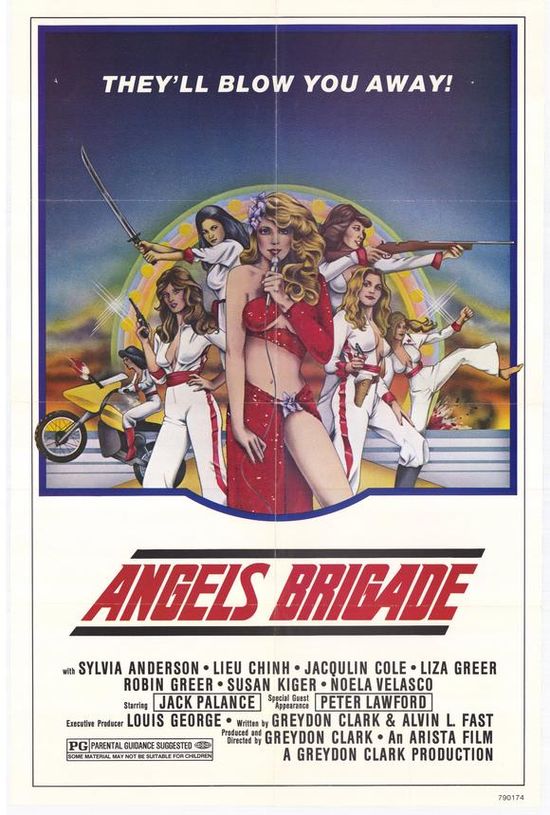 Year: 1979
Duration: 01:35:00
Directed by:  Greydon Clark
Actors: Sylvia Anderson, Lieu Chinh, Jacqueline Cole
Language: English
Country: USA
Also known as: Angel's Revenge, Seven from Heaven, Die unschlagbaren Sieben von Las Vegas

Description: Six women and the girl-teenager decide to join forces and blow up the local factory for the production of drugs, thus putting an end to the activities of drug traffickers in his hometown.
Review: No man would dare mess with the biggest drug operation on the West Coast – especially when it's run by Jack Palance(tv's Ripley's Believe it or not) and Peter Lawford. No man would – but seven resourceful women will and do. In an action-packed tale of daring and skill.
One by one, an ANGEL'S BRIGADE is recruited by April, an idealistic young teacher bent on busting an illegal drug processing compound in the California desert. Her fighting roster includes a stuntwoman, a Karate instructor, a policewoman, a model, an unstoppable tank-like van, and enough brains-behind-the bullets to rip the roof off the drug business. But when the job is done, the action hits new heights – the crime lords have caught APRIL, and only the ANGEL'S BRIGADE can save her!
Riveting and rousing exploits, co-starring ALAN HALE, JIM BACKUS, and ARTHUR GODFREY.
Screenshots:
Download: