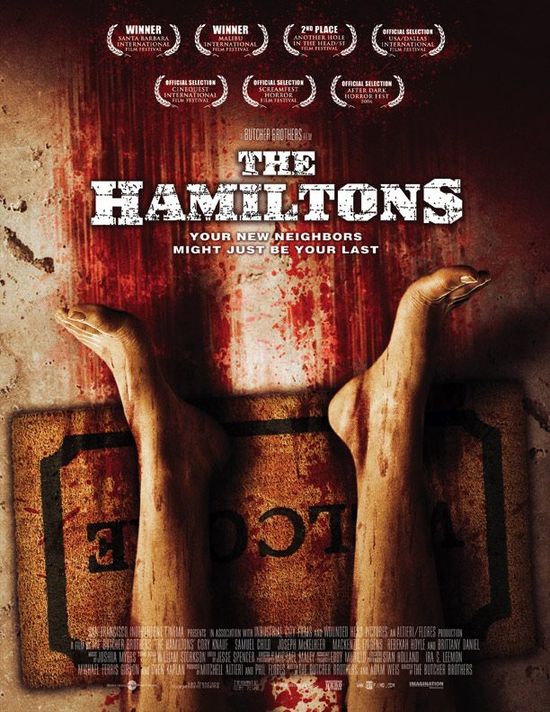 Year: 2006
Duration: 01:26:35
Directed by: Mitchell Altieri, Phil Flores

Actors: Cory Knauf, Samuel Child and Joseph McKelheer

Language: English
Country: USA
Also known as: Los Hamilton, Oi Hamiltons, Os Hamiltons, Vérvadászok

Description: The Hamiltons is the story of a family with a secret: they have a nasty habit of kidnapping young women and trapping them in the cellar to be murdered. David, the eldest is just trying to keep the family together after the death of their parents, Wendell and Darlene are twins who enjoy their sick games, and Francis is the conflicted youth who catches feelings for one of the girls in the basement. Overall the movie is more of a psychological horror film than anything, with the directors going for the slow burn. They do a decent job, but fall just short of the mark in a first effort that's well worth watching. Joseph McKelheer has also played in Nightstalker and Hillside Strangler Murders

Review: A few words about the film "Hamiltons". One of those smart film, where until the end is not clear what is happening.
The plot is a mysterious family of Hamiltons, consisting of three brothers, sisters, and some one else living in the basement. Perhaps the film's central character is the youngest of the brothers, which opposes itself to the rest of the family. It to the end is a pity and compassion for yourself, for the rest of the family appears inadequate bunch of maniacs who kill people for no reason and logic. Only inspection of the film fully understand the depth and logic of the film.
Scary, fun and very unusual! Here are the main impressions that causes the viewing of this film.
Screenshots:
Download: