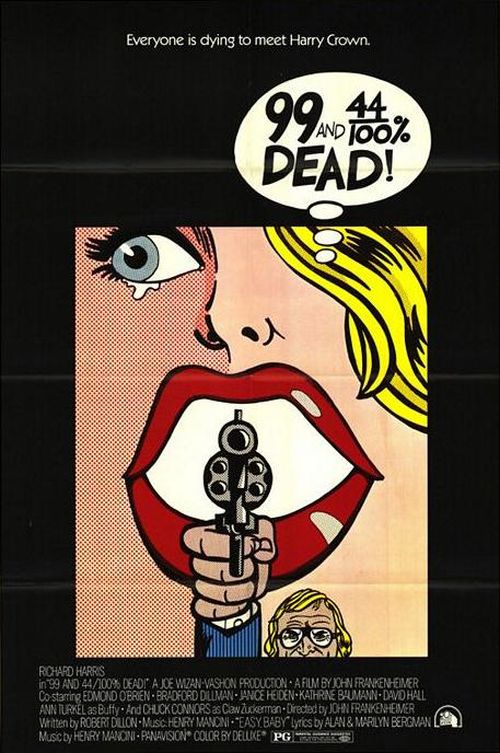 Year: 1974
Duration: 01:38:01
Directed by: John Frankenheimer
Actors: Richard Harris, Edmond O'Brien, Bradford Dillman
Language: English
Country: USA
Also known as: 99 % død, 99% muerto, Arrefecido a 99%, Até o Último Disparo, Attento sicario: Crown è in caccia, Call Harry Crown, König Ballermann,
Description: Frankenheimer's soundly ignored crime comedy goofball cartoon has Richard Harris in full Michael Caine hair mode. Caine would return the hairfavor with his masterful coif in Oliver's Stone's The Hand.
Terribly unfunny joke about eating the closing credits, using reverse irony to deflect attention both away and towards the lameness of the humor.
Review: Perhaps the title of this picture many times more original it myself, although it is, in fact, he plays with the advertising slogan of soap, «ivory». American Director John Frankenheimer, who worked successfully in different genres, except Comedy and gangster movie, for some reason decided to make a parody of it is on a gangster movie. His hero, a professional killer Harry crown (there was no intentional roll with the main characters of «Dirty Harry» and «Scam Thomas crown affair»?) caught in a merciless struggle that led to one another two mafia boss – Uncle Frank and Big Eddie.
«A mixture of Peter O Tula and woody Allen's ironic remark American Handbook «Movies he Ti-VI and video cassettes,» looks British actor Richard Harris, playing the role of an assassin in the glasses. But the film is too " heavy " and cumbersome for parody, «goes to the bottom,» like the dead in this picture, which dumped into the water with the load on the neck. The Director feels comic style, but some scenes may seem funny to those viewers who like «black Comedy». Even more curious that after not very successful tape Frankenheimer suddenly had interest in gangster militants, putting a second series of the famous «French Connector».
Screenshots:
Download: