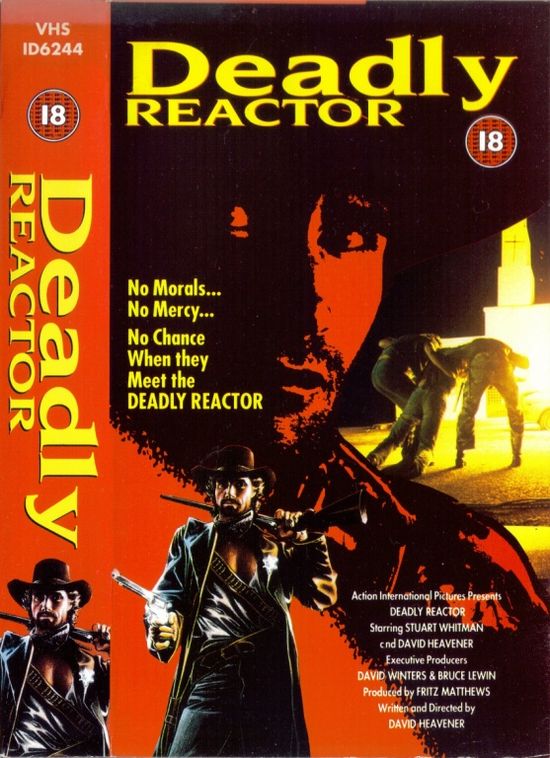 Year: 1989
Duration: 01:29:24
Directed by: David Heavener
Actors: Stuart Whitman, David Heavener, Darwyn Swalve
Language: English
Country: USA
Also known as: Reactor
Description: After the nuclear disaster the world is ruled violence. A gang of thugs led by Hogom kills all native priest Cody.
Driven by a thirst for justice, Cody priest baptized me at the star sheriff and begins to take revenge bandits, the doers of iniquity.
Review: well, it's supposedly a post-apocalyptic flick, but damned if I couldn't tell the difference 'tween it and a western. Aside from the way the bad guys dress, and the odd car, this movie is totally a western. I was especially psyched for the "deadly reactor" of the title being some sweet race to death before a nuclear power plant went critical or something, but no, actually, our hero, he is the deadly reactor. he reacts. Yeah, lame. but at least he reacts with sweet murder, and there's also your staple cheese stuff, breasts, rape, more murder, the amish, you know, you've been there.
ALSO! This I would argue has a pretty badass opening for what is quite a schlocky film, in that there's drunken titties, and then FUCK, a nine year old kid gets shot in the back and his aunt gets raped! whoo! let me just say that for the record, i LOVE it in movies when there's kid-killing. yipeee!
Screenshots:
Download: